Don't Let Go or Else
Hang on for a minute...we're trying to find some more stories you might like.
There is simply no room for any errors. If he slips, he falls. If he falls, he dies. Alex Honnold is possibly one of the greatest rock climbers in the world. In 2017, Alex became the first person in the world to climb El Capitan in Yosemite, without any ropes, partners or supervision–a skill known as free soloing. Climbing this 1,000-meter wall, gained him overnight fame, and now, he's one of the greatest rock climbers ever.
From a young age, Alex has been learning to rock climb. He never expected that free soloing would be his forever job. Before this, Alex went to UC Berkeley, learning civil engineering. He dropped out the next year to go climb boulders. He didn't live in an apartment or a home. Alex lives in a van. He enjoys living in a van, being able to travel where the weather was good. He has been climbing from a young age, joining in many competitions.
Free-soloing is a high-stakes game. It's either death or perfection. One slip could kill you. "If I don't know what I'm doing and I hesitate then it can be a nightmare," he warned. Alex doesn't pick a mountain and go for it, hoping that he might make it out alive. It's all choreographed. Every footstep has been mapped out in advance and every hold has been visualized. The trick is to make sure that you focus all our attention to what you're doing, and make sure that you know all the possible outcomes.
Alex enjoys listening to music just like we do, but he likes to listen to music hundreds of feet in the air. Just like us, Alex has his own taste in his music. Punk or rock plays in his ears as he focuses on getting each step right where it needs to be. Alex says he turns the music off when he reaches the more difficult parts of the route.
Alex had to adjust his diet for free-soloing. Mainly desserts. Making sure that he stays healthy is important. But the mental component is even more important: "I just didn't want to be on the wall and think: Oh man, I really shouldn't have eaten those biscuits."
But after you reach the top? How do you get down? Easy, walk back down.
About the Writer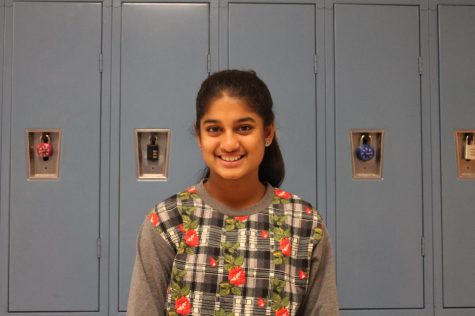 Janani Sivakumar, Reporter
Janani is a new student at Canyon Vista. She moved from California and loved living there. She loves playing sports. She plays volleyball and tennis. Janani...