Dog Zone! – Dog Places for Dog People
I love taking my dog to fresh and exciting places. We have taken her camping, hiking, and set her off-leash. Of course, if you have a pomeranian or a dog breed that doesn't like physical activity, I have just the place for you! At the time, my puppy is only 9 months old but has visited so many places in Austin. Before you go to these places, make sure you have trained your dog to come when called 100%, you don't want your dog to get lost! Also make sure that if the worst happens, make sure their microchip and id tags are updated and that you have a good picture of your dog.
1. The Great Northern Dam
The Great Northern Dam might be used as a dam, but also as a beautiful off-leash dog park. While you walk around, your dog can visit other dogs and run by your side, if your dog is into that. I recommend this dog park for any dog, tiny, huge, long, or maybe in between! My dog is a run-around type of dog, if your dog is the same, then be sure to bring some water and something for your dog to drink out of. This park also has many fresh flowers near spring, which look beautiful! The park is probably the best place to go, and I highly recommend going there. It's my go-to place to let my dog run around and go crazy with other pups.
2. The Cedar Bark Park
The Cedar Bark Park is a huge dog park (with fences) where there is a lot of legroom for maybe even your whole extended family! It's split into two different parts, the 30 pounds and under the section, and the 30 and over part. If your dog is 30 pounds, you have choices! Last time, my dog was 29 pounds, so we went to the small dog part, right now she is around 50 pounds so the next time we visit, she will be in the big dog zone! It has some agility training ramps and hoops on both sides for your dog to train for agility. While my dog was running around, I counted how many dogs there were on the other hand, a total of 16 dogs! If your dog likes making friends, this park is perfect!
3. The Riata Lake
Riata Lake is a big lake with a beautiful trail to walk in. In the middle, there is a vast lake full of fish and geese. My dog is more than happy to be off-leash there. Again, going there in the spring and summer will let you have the best experience. Just make sure your dog doesn't hop in for a swim and starts catching fish and birds. Fishing is not allowed! Overall, it's a beautiful place.
4. Spicewood Springs Park
This is probably the one which I would call "Variety Park." Some people run, play soccer and baseball, have a party, pet adorable cats, and did I mention play Pokemon™ GO? This park is probably the one with the most traffic, especially on days of birthday parties and Pokemon™ events, wow there are so many people on Pokemon™ events. The park has many amenities and is an excellent place to enjoy nature to the fullest
5. Starbucks
Relax with a hot cup of coffee and a brownie at Starbucks. Now, like the French, you too can sit at cafes and relax with your "chein (dog)." My dog has not been there before, because of how excited she is about the world, but I'm sure other dogs could be more suited to it. They will get you some water and a puppichino if you ask for it. A puppichino is a small glass of whipped cream that dogs will enjoy very much.
Well, that's the top five places that I'd go to with my dog. By the way, the picture you just scrolled past is a picture of my gorgeous dog staring into the distance. I hope you and your pooch find these places enjoyable and make great memories together. Have fun!
View Comments(1)
About the Contributor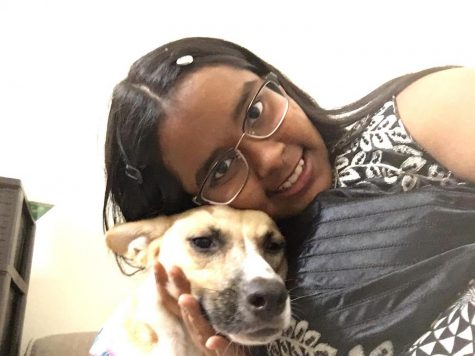 Shristi Dayal, Reporter
Shristi loves everything music, dog, and anime related. An ideal day for her would be to go to an arcade and listen to music.