Students Compete in Annual Geography Bee
On Jan. 21, students competed in the annual Geo Bee in the library. This was the final round, as the students competing passed the qualifying test earlier in January. Silas Ou (8) came in the first place, Andrew Bearse (8) came in second place, and Abraham Kunnan (7) came in third.
"After I got the first question wrong, I got nervous, and I would just freeze," Ou said, but he ultimately ended up winning, "Hopefully, I go to state, I just have to pass that qualification test."
"The Geo Bee is very difficult. It's a big accomplishment to qualify for the finals," Mr. Keith MaCuk, social studies teacher, said, "We are very proud of all the students who took part in the Geo Bee."
Contestants were asked questions about geography around the world. Some questions were:
Which country does NOT border the Black Sea—Bulgaria, Denmark, or Turkey?
Estancias is the term for large cattle ranches in the second-largest country by area in South America. Name this country.
Located on the edge of the Ozark Plateau, Jefferson City is the capital of which state?
 Which state has a longer coastline—Maine or Rhode Island?
These are just a few of the questions asked nationwide as schools compete in this Geo Bee. Students who did well in Canyon Vista can advance to the state.
"I got third place," Kunnan said, "I thought I could do better, but I was still proud to get this far. It helped me learn more about the world."
"I did better than I thought I would," Bearse, who came in second place, said, "I just choked, in the end, a little, but it wasn't too difficult."
Many other students competed, but these were the top three winners. They worked hard to get this far. Next year, do you think you could win the Geo Bee?
About the Writer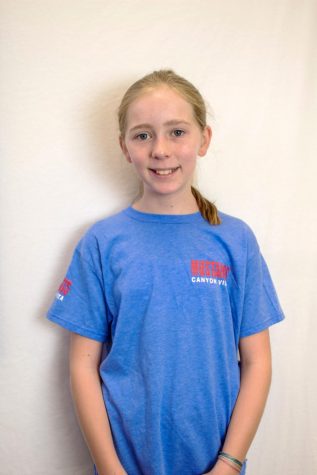 Hannah McDonough, Editor
Hannah McDonough is an eighth-grader here at Canyon Vista. This is her second year in newsmedia and last year, she received a silver medal in UIL for her...