Who is the First "Second Gentleman"?
Douglas Emhoff inverts gender stereotypes
Kamala Harris defined history on January 20, 2021 when she got sworn in as the first woman vice president and first vice president of color. Her husband also broke barriers by being the first Second Gentleman. The United States has only ever had Second Ladies in the White House until now and therefore interest has spiked in Douglas Emhoff, the first Second Gentleman.
Who is Douglas Emhoff?
Douglas Emhoff was previously married to Kerstin Emhoff and has two children, Ella and Cole Emhoff. At home, they affectionately call Kamala Harris "Momala". Momala is a play on Kamala's name and the Yiddish word for "little mother". Douglas Emhoff is Jewish and will the be the first Jewish spouse of an American president or vice president. Before Kamala Harris and Joe Biden won the election, Emhoff was a successful entertainment lawyer. In 2017 he joined the DLA Piper legal team in Los Angeles. When his spouse Kamala Harris won the election, he took a leave of absence to help Harris with her campaign work.
Douglas Emhoff recalls of his relationship to Kamala Harris, "… though I had always admired and supported her work, until recently, our professional lives had remained separate worlds. That changed the day Joe Biden called and asked her to join the ticket as his running mate. On that day it quickly became clear that this wasn't just about my love for my wife, but also about my love for this country. Stepping back from my career as an entertainment lawyer was a decision that we made together—this was about something bigger than either of us."
What will he do as Second Gentleman?
How will Douglas Emhoff define his role as first "Second Gentleman"? The spouses of vice presidents have relative flexibility in carving out their roles. For example, former Second Lady Karen Pence raised awareness about art therapy. She also worked towards the conservation of honeybee habitats and the importance of pollination. Her predecessor, Jill Biden, worked on a project with Michelle Obama called Joining Forces which was a program supporting United States military families.  Emhoff has announced that he would like to focus on equal access to justice and legal representation. Yet he claims that his most important role as Second Gentleman will be supporting his wife. According to Douglas Emhoff, " I want [Ella and Cole] to grow up in a world where it isn't news that a loving partner—of any gender—supports them in everything they do… I may be the first Second Gentleman, but I know I won't be the last. "
Leave a Comment
About the Contributor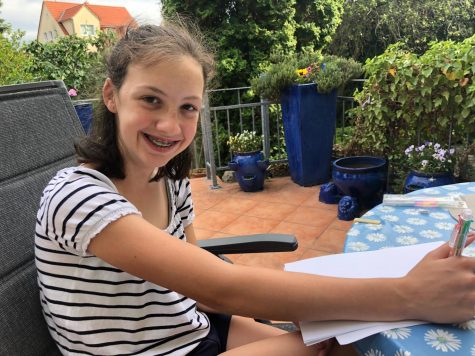 Lena Boas, Editor
Lena Boas loves to play soccer and run track. She enjoys traveling to other countries and learning about different cultures. She also plays piano and is...