On October 21st, 2023, robotics teams competed in the challenging field of competitive robotics at Anderson High School. All the teams competed in the qualifiers of the competition, then the strongest moved on to the all-or-nothing tournament to crown a victor.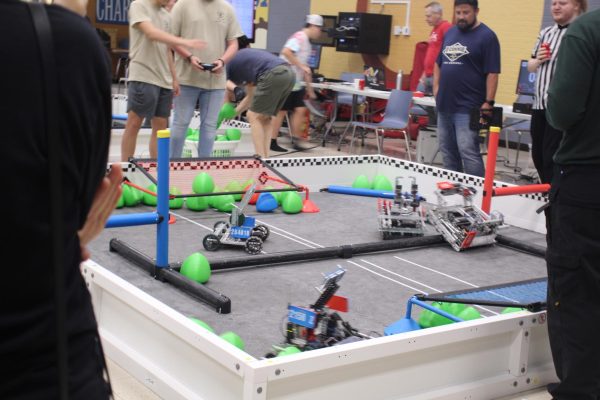 "I joined this because I like robotics. Because robotics is cool," 7th Grader Niketh Balkrishnan said.
These robots compete in the competitive field of VRC (Vex Robotics Competition). The current season is Over Under, where teams try to get tetrahedrons (or triangular pyramids) under a goal and climb the blue and red poles shown above to win in two-team alliances against each other.
  "We actually do something very interesting, we do robotics. " 7th Grader Niketh Balkrishnan said.
These robots are commanded by teams. Teams will build the robot from scratch, trying to code and engineer clever solutions to the strenuous tasks over a year, before the next "theme" rolls around. These teams are made only up of middle and high schoolers, but parents can help the children in their journey.
"Um, just, like, anybody could join (our team). I mean like, they have to be nice. And, um, productive." 7th Grader Niketh Balakrishnan said.
At the end of a season, robots in a region will compete for a place to go into Worlds, where they will test their mettle against some of the best teams in the world to be a world champion, all from their imagination and expertise in the field of robotics and STEM.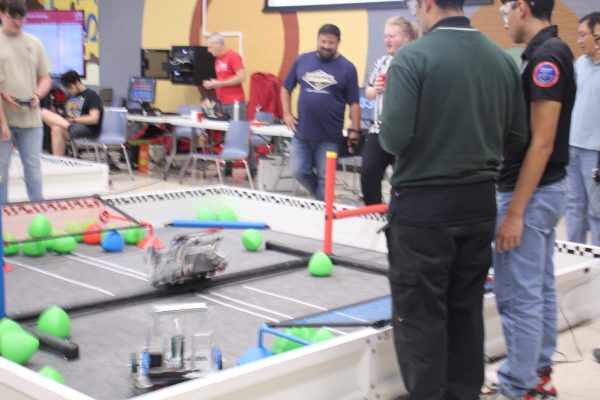 "I mean, you have to build a robot. You have to build it, program it, you have to like, develop a strategy." 7th Grader Mihika said.