Twenty One Pilots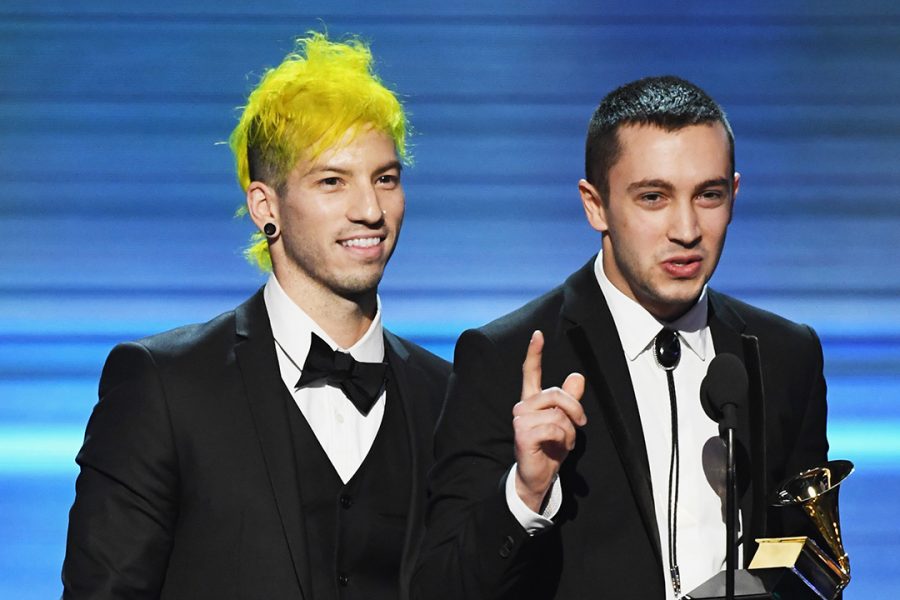 Grammy award winning band, Twenty One Pilots, made up of drummer Josh Dun and lead singer, ukulele player, and bassist Tyler Joseph are most known for their radio hits, Stressed Out and Ride, from their 2015 album Blurryface.
Despite their recent popularity spike, they have been making quality music since 2007, when Tyler released his personal album, No Phun Intended, recorded by himself, along with a few friends and his brother. It even includes a few live performances he did at his local church.
Through 2009 and 2011 the band was slowly coming together, with Tyler, his friends, and eventually his best friend Josh Dun. Those years they released their self titled album, Twenty One Pilots, and an experimental album, Regional at Best. They gained a local following, and through that success they got signed to Fueled By Ramen, a record label that also carries bands such as Fall Out Boy and Panic! At The Disco.
In 2013 they released their first big hit album, Vessel, the band now only consisting of Josh and Tyler. It included top chart songs, House of Gold and Car Radio.
Their most recent album is Blurryface, released in 2015, with a darker and more radio-friendly vibe, despite lyrics such as "This song will never be on the radio". Stressed Out was the most popular song from the album, despite Tyler himself commenting on how he doesn't want to be known for that song, and that he regrets writing it.
And they shouldn't be known for just that, heir important messages, and meaningful lyrics are prevalent, even more so, through their older albums.. Their new album is rumored to be released later this year, despite no media presence or hints from the duo. Keep an eye out for them, and whatever new music is to come. Check out their music on Spotify, iTunes, and anywhere else you can listen to music!
About the Writer Zack Catuogno, Reporter
Zack is an 8th grader that appreciates and enjoys almost nothing, with the exception of art, music, and reptiles.