History of Thanksgiving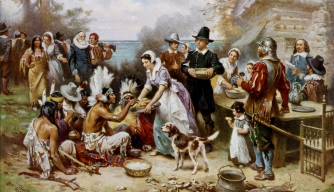 In November 1621, after the Pilgrims' first corn harvest was successful, Governor William Bradford organized a celebratory feast and invited a group of the weak colony's Native American allies, including the Wampanoag chief Massasoit. This celebration lasted for three days. Now remembered as American's "first Thanksgiving" although the Pilgrims themselves may not have used the term at the time. While no record exists of the historic banquet's exact menu, the Pilgrim chronicler Edward Winslow wrote in his journal that Governor Bradford sent four men on a "fowling" mission in preparation for the event and that the Wampanoag guests arrived bearing five deer. Historians have suggested that many of the dishes were likely prepared using traditional Native American spices and cooking methods. Because the Pilgrims had no oven and the Mayflower's sugar supply had decreased by the fall of 1621, the meal did not feature pies, cakes or other desserts, which have become a trademark of modern celebrations.
Pilgrims held their second Thanksgiving celebration in 1623 to mark the end of a long drought that had threatened the year's harvest and inspired Governor Bradford to call for a religious fast. Days of fasting and thanksgiving on an annual basis became common practice in other New England settlements as well. During the American Revolution, the Continental Congress assigned one or more days of thanksgiving a year, and in 1789 George Washington declared the first Thanksgiving by the national government of the United States. In it, he called upon Americans to express their thanks for the happy end to the country's war of independence and the successful ratification of the U.S. Constitution. His successors John Adams and James Madison also designated days of thanks during their presidencies.
In many modern American households, the Thanksgiving celebration has lost much of its original religious significance; instead, it now centers on cooking and sharing a huge meal with family and friends. Turkey, a Thanksgiving tradition so universal it has become all but synonymous with the holiday, it may or may not have been offered when the Pilgrims hosted the inaugural feast in 1621. Today, however, nearly 90 percent of Americans eat the bird whether roasted, baked or deep fried on Thanksgiving. Other traditional foods include stuffing, mashed potatoes, cranberry sauce and pumpkin pie. I certainly am ready to eat!
About the Writer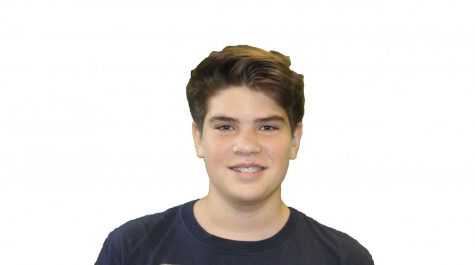 Jack Purcell, Reporter
Jack Purcell likes sketching, and ceramics. He was in Mr. Ramirez's art class for 6th and 7th grade and is now in Mrs. Loera's class for 8th grade....