Persian New Year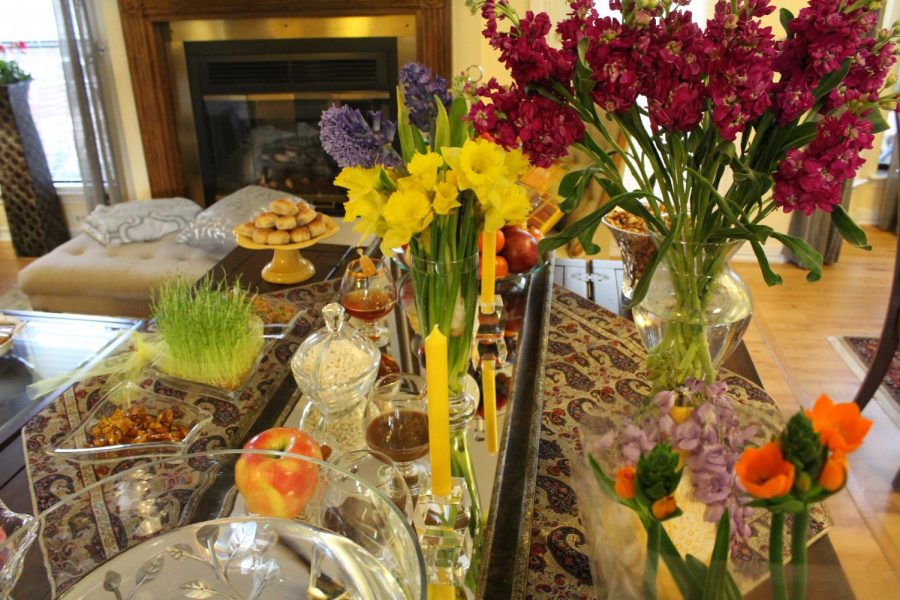 Persian New Year ( called Nourooz in Farsi ) is a celebration in Iranian culture that pivots around the start of the joyous season of  Spring. On the Equinox, Iranians celebrate the exact moment of the exchanging seasons. But even before the New Year is commemorated, there is much work to be done up to that point.
A few weeks in advance, families begin the thorough process of Spring cleaning ( or "Khanehtekani" as it is called in Farsi which basically means shaking the entire house). Later, certain foods and pastries are hand crafted after hours of straining over cooktops. For those who don't have the time or patience but only the appetite, there are some amazing authentic Iranian run pastry shops located in the streets of Iranian cities.
The last Tuesday of the year,  known as charshanbesoori is spent getting together with friends and family and eating sweet dried nuts and fruits and also a rice and noodle dish known as reshtehpolo. The noodles in this dish signifies good luck in your path ahead in life.  Another ritual on that night is for children and young adults to cover their faces in disguise and knock on neighbors' doors with spoons and ask for sweets and treats. Does that remind you of an Western holiday?  The night's festivities end with people  jumping over a series of seven fires which symbolizes ridding their lives of negative influences and getting warmth and energy from the fire. This tradition spans several centuries and started back when Iranians practiced the positive and peaceful religion of the Zoroastrians. Even after the Iranian revolution brought strict and forced religion of  a different kind to the people of Iran, people to this day try to keep this tradition going.
After this night of celebration, people  set out a table setting (called a Haftseen) which celebrates the seven lucky symbols of the upcoming prosperity of spring.First and foremost their is the Seeb or apple which is an emblem of beauty. Secondly, the Seer or garlic which is the token of good and lasting health for years to come. After that comes the Serkeh or the vinegar which represents patience. Then there is the Sonbol (Hyacinth flower) which represents spring , Samanu ( sweet pudding) representing fertility,  Sabzeh ( green wheat sprouts) idealizing rebirth , and Sekeh (coins) recognizing  wealth and prosperity. Sabzeh is traditionally grown days before to insure that the seeds sprout by the time Spring arrives. Also,  it is custom to paint eggs with vibrant colors and detail them with signs of Spring such as flowers and sayings of bloom and happiness. This addition to the Haftseen  is similar to egg decorating during the Christian holiday of Easter. Besides the painted eggs and seven symbols, candles, mirrors, and poetry by Hafeez ( A well known poet in 14th century Iran, known for writing romantic poetry) are all prominent on the Haftseen.  Homemade pastry such as Nan-e Nokhodchi ( a chickpea pastry) is a well liked addition.  The first meal of the New year is always a fish and herbed rice dish decorated with Saffron (the most expensive spice in the world) which is called Sabeez polo mahee.
During this joyous celebration of Spring, Iranians visit the homes of friends and family starting with the eldest relation and exchange gifts. Older relatives tend to give out crisp new money as gifts to small children.  The celebrations last for 13 days( schools and government offices are closed) and on the 13th day, people picnic outside all day, playing games and enjoying the beautiful Spring weather. On this day based on old tradition , young, eligible women tie knots on the grass in hopes of finding a young and prosperous suitor. Believe me some girls take this tradition extremely seriously! This day of fun is called Sizde-be-dar. 
Though the traditions have altered through the years, certain crucial aspects have not wavered throughout the centuries. Iranians take pride in this joyous and quite lengthy coming of Spring.
About the Writer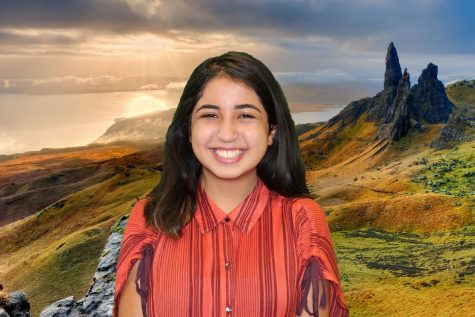 Keana Saberi, Reporter
Keana is a funny and sweet 8th grader. She absolutely adores Hamilton and has memorized every lines. She loves sushi and ramen soup and devours British...