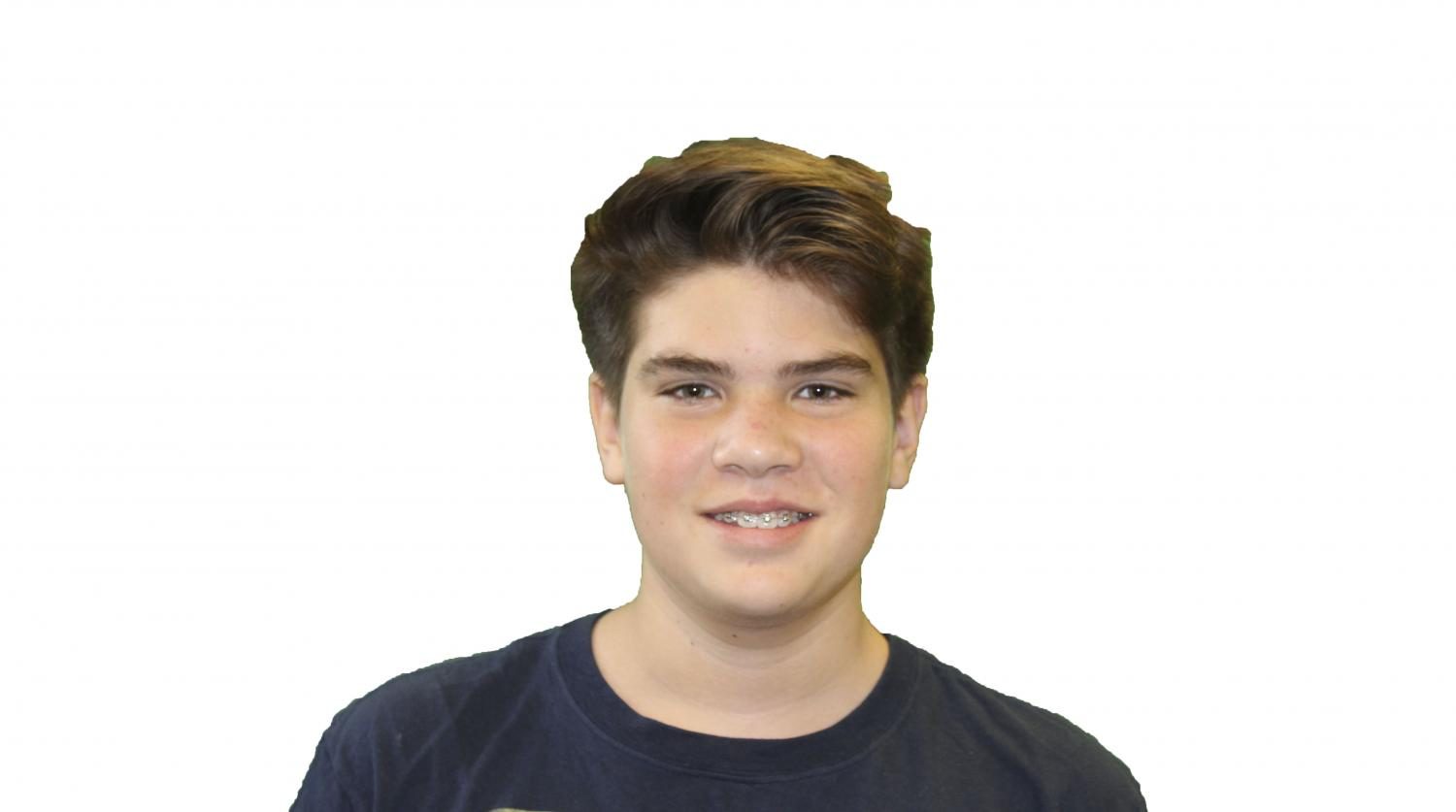 Jack Purcell likes sketching, and ceramics. He was in Mr. Ramirez's art class for 6th and 7th grade and is now in Mrs. Loera's class for 8th grade. When he grows up he would like to become an animator. He would also like to try to get into an art collage somewhere near his house.
His favorite thing about canyon vista is making new friend. He was in 3D printing club in seventh grade and might continue doing it in 8th.
The places he wants to travel the most are Italy or Ireland. He wants to go to Italy because he has a lot of family there and he can't wait to meet his cousins. He wants to go to Ireland because most of his family is part Irish and his family history is mostly based around there.
Jack Purcell, Reporter
May 24, 2018

Businessmen Make Plans to Make Part of Downtown Austin More Green

(Story)

May 17, 2018

Nintendo Switches new Charging Stand

(Story)

May 10, 2018
May 04, 2018

Pokemon Distribution for 2018

(Story)

Apr 25, 2018

Interview with Anti-Bullying Poster Winner – Sophia Swanson

(Story)

Apr 13, 2018

Art-Filled Trip to London and Paris

(Story)

Apr 13, 2018

Should Grafitti be Considered Art?

(Story)

Apr 13, 2018

10 Cool Places to Visit in Austin Texas

(Story)

Apr 03, 2018

Six Ways to Help the Environment

(Story)

Mar 26, 2018
Feb 28, 2018

Kirby Star Allies

(Story)

Feb 26, 2018
Feb 13, 2018

History of Valentine's Day

(Story)

Feb 12, 2018
Jan 24, 2018

Nintendo Announced Multiple Games for the Switch

(Story)

Dec 15, 2017

History of Christmas

(Story)

Dec 12, 2017
Nov 27, 2017

Pokémon Ultra Sun and Ultra Moon

(Story)

Nov 27, 2017

History of Thanksgiving

(Story)

Nov 13, 2017

Disney Announces New Star Wars Trilogy

(Story)

Nov 10, 2017

8th Grade Westwood Visit

(Story)

Nov 10, 2017
Nov 07, 2017

What are AP and IB Classes?

(Story)

Nov 03, 2017

Westwood High School Tour

(Story)

Oct 09, 2017

History of Halloween

(Story)

Oct 01, 2017

Westwood Interview With Megan Purcell

(Story)

Sep 29, 2017

A Midsummer Night's Dream

(Story)

Sep 20, 2017

Self Driving Car Can Be Summoned on Demand

(Story)

Sep 18, 2017

Edible Water Bubble?

(Story)

Sep 15, 2017

America's Most Dangerous Water Park

(Story)

Sep 13, 2017

Why It's A Big Deal That Patty Jenkins Is Directing Wonder Woman 2

(Story)