Rock Talk: Ghost Town
When you think of a ghost town, your mind usually drifts to an abandoned little mining town from the 1800s. To me, however, Ghost Town was the first band I truly fell in love with. Formed in 2012 and signed to Fueled by Ramen, Ghost Town is an electro-rock band known for their edgy mix of hard rock, dubstep, and EDM. At the time I discovered them, it was a funky quartet made up of vocalist Kevin "Ghost" McCullough, guitarist Alix Koochaki, drummer Manny Dominick (also known as MannYtheDrummer), and keyboardist Evan Pearce. Much to my devastation, I learned last year that Manny and Alix had departed from the band despite Evan finally coming back. Because Alix and Manny were the two people that gave the band their rough rock sound, much of Ghost Town's work became heavily electronic. Just like many other fans, I'm not a fan of pure EDM. I stopped listening and they soon became a distant memory in my music-filled life.
Recently, though, I went through my mess of a music library (is that what you call it?) and came across a few songs not yet deleted. "Come back to me!" they cried like a clingy ex. Obviously, I did. The first song I listened to after 3 years was "You're So Creepy", a heavily Halloween influenced title-track with the signature beat drops and creepy laughter I missed so much. Enough sentiment though. Let's talk about who they are in more detail.
As I mentioned before, Ghost Town used to be made up of 4 members. They released their first song, "Game Freak" in 2012, followed by their debut album "Party in the Graveyard". They signed to Fueled by Ramen a year later, marking the official beginning of Ghost Town. Soon after came their second album "The After Party", which featured 10 new songs and a remade version of "You're so Creepy". The After Party hit #135 on Billboard 200, #1 on Billboard Top Heatseekers, and was included in Rock Sound's 50 Best Albums of 2014.
Despite Ghost Town's career peaking, Pearce announced his departure from the band due to undisclosed health reasons. Ghost Town's album "Evolution" dropped shortly after. Evolution brought a new facet of Ghost Town to the table: a glossy, slightly soft and over the top electronic sound that frankly, nobody wanted. With this flop of an album and the loss of a member, the trio slid back into the shadows for a while until they started doing Ghost Town Tuesdays again.
Every Tuesday, the band released a new single. Some of these still had their rough edge to them, due to being unfinished projects and drafts. Others kept the new sound. This kept their popularity leveled for a while. At least, it did until Dominick and Koochaki left, and Pearce came back.
In December of 2016, Ghost Town announced Pearce's return via Facebook. Once again, the band was a quartet. This didn't last long, however, as Koochaki departed the next April. Dominick followed soon after, explaining that "the atmosphere of Ghost Town" had turned toxic and untrusting.
The absence of Dominick and Koochaki should've marked the downfall of Ghost Town. Unfortunately, McCullough didn't get the message and forged on with Pearce as a duo. At this point, they were just an edgier version of the Chainsmokers.
I don't listen to Ghost Town as much as I used to, nor do I like their new music. What I can say, however, is that the four years they were actually relevant will always stay in my heart.
And my phone.
About the Contributor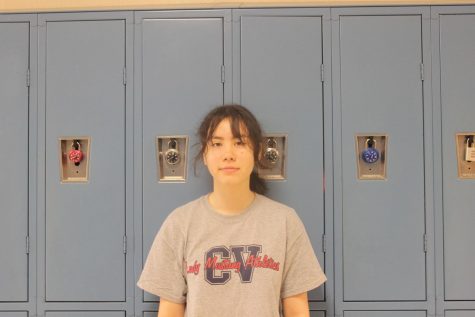 Lyla Boretz, Reporter
Lyla Boretz is a 13-year-old student with a passion for music and sports. She's played the violin for 5 years, figure skated for two, and did English riding...