A Look at the Major American Animation Studios
Hang on for a minute...we're trying to find some more stories you might like.
In the crowded marketplace of animation, several studios battle it out for box office share, attempting to capture the hearts of kids and the wallets of their parents.
Illumination Entertainment:
Probably the most recent studio on this list, Illumination is most known for the extremely successful Despicable Me series. Their first movie was the first installment in the Despicable Me series. Coincidentally, this is also their best film. Not a good sign. A lot of people hate this studio, but I don't think they're THAT bad. The first two Despicable Me movies are OK, with the first one being both funny and heartwarming. The next two installments are less good, and their other movies are pretty meh. Their best outside of the first Despicable Me would be Sing, a decently charming, but predictable, movie. Their worst might be Hop, their least successful movie, and for a good reason.
Illumination's films have some alright designs, evoking The Far Side at times, but the animation is frequently slipshod, particularly on their Dr. Seuss based films. There is a reason for this, actually. The company was founded on the principle that their animated films would be produced very cheaply, therefore maximizing profit. This also explains the marketing blitz their films receive, spawning brand deals and the faces of the company's famous Minion mascots plastered on nearly every product you can imagine.
Pixar:
The big one. Pixar is famous for how good their films are, and how cutting edge their movies can be. I don't have anything to say, besides the obvious fact that they are the best CGI animated company working. Their best film is, in my opinion, Up or Wall-E, but everyone has their own favorite.
Laika Animation:
A highly underrated studio indeed. Laika produces creepy and cerebral claymation films that often feel otherworldly. Laika's signature stop motion style is excellent, and very meticulous, taking incredibly long to produce. And this extended work time definitely pays off, but their long process means they have only produced four movies since 2009. Their first, and the most famous, film is Coraline, one of my favorite movies of all time, and one that traumatized several kids of my generation. Their other movies are ParaNorman, The Box Trolls, and Kubo and The Two Strings, all pretty excellent films. Kubo did poorly at the box office, which hopefully doesn't mean Laika will stop producing their excellent and weird masterpieces.
Warner Bros Animation Group:
Warner Bros Animation Group began in 2014 with the release of The Lego Movie. Personally, I think it's a perfectly fine movie with some pretty clever jokes, but a few more misses. To follow this up, they made Storks, a dire seeming film that I have not seen and will never see until 20 years in the future when my small child, Geoffrey, will request to watch it and I will begrudgingly comply only to suffer from a choking fit halfway through because of a tortilla chip.
Anyway, they started to milk the success of The Lego Movie with several other Lego themed animated movies. I haven't seen these either. Their second non-Lego movie was Smallfoot, which my co-worker Baker Tuthill says is "bad." I'm going to take his word for it.
Dreamworks:
Considered by many to be a poor man's Pixar, this studio was founded by Jeffrey Katzenberg, a former Disney employee, partially because he wanted to get back at his former bosses, which might explain why their first film, Antz, was pretty similar to Pixar's first. Dreamworks Animation has a wildly inconsistent track record when it comes to its features, ranging from outright terrible to mediocre to pretty good. The one thing that's for sure is that they've never produced a film on caliber with their competitor, Pixar.
Their films tend to go by trends that prevail by the time, and they rarely strive to make something other than a mindless, fart joke filled, comedy. The exceptions to this rule would be the more action-oriented How to Train Your Dragon series and of course, Shrek, which is probably their best movie. Dreamworks is an inconsistent company, with many hits and misses, and when they miss, as with so many of their films, the results are truly dire.
Walt Disney Animation:
By far the oldest animation studio on this list, the Disney Company has made an empire out of animated films. Of course, their early films are excellent and true classics. Their recent flicks play as more saccharine and song filled versions of Pixar's movies. It's never been my thing, really, but I do enjoy them and I do see why people like them. Personally, I enjoyed Zootopia the most, as opposed to their more musical oriented offerings such as Moana and Frozen. Disney's feature films, of course, go back decades, since the release of Snow White and The Seven Dwarves in 1937, so with the variety of wildly different era's the company has experienced, it's difficult to say exactly what their best overall movie has been. Their early era has many classics of course, from Fantasia to Bambi.
As a child, I watched a lot of their movies produced during the 60s, and I used to watch The Jungle Book and The Aristocats on repeat. I also remember really enjoying the highly underrated The Great Mouse Detective. I didn't really watch much of their 90s oeuvre, like Aladdin or Beauty and The Beast, but many consider these the companies best. Really, I feel like this shows the studio's versatility in creating movies that appeal to everyone across multiple generations. Movies like The Boss Baby, from Dreamworks, will not endure beyond the next decade, but I have a feeling all of Disney's films will, even into the next century even.
Blue Sky Studios
Blue Sky started off as a CGI company, who worked on several blockbuster films as the VFX specialists. They then branched out into their own animation studio, which proved quite fruitful, actually. Similar to Illumination, they struck gold with their first film and kept milking it since. The Ice Age movies are this studio's bread and butter, and they're fine at best. They fall into the trap of "pointless celebrity cast", especially the 4th movie, which features Nicki Minaj and Drake, both of which are pretty bad actors. Other films by Blue Sky feature Pitbull, Will.i.am, and Bruno Mars, people who are decidedly NOT ACTORS.
They have also produced the two Rio films. I've seen Rio 2, one of their worst movies, 7 times, despite the fact that I've always hated it. I don't know why either. The only good movie by them would be, at least in my opinion, The Peanuts Movie, a charming little callback to the original classic Peanuts movie. It's not great, but the animation captures the spirit of Charles Schulz's original drawings very well.
For some reason, all of their movies have environmental themes, and I'm not sure why. It's certainly a good message, but the messaging is very heavy-handed at times. The time when this became glaringly obvious was during 2013's Epic, a very weird movie that has some very preachy morals at its core.
Sony Animation:
Sony Pictures Animation is an offshoot of Sony Pictures, and boy is their track record inconsistent. I called Dreamworks uneven, but boy are these guys even worse. Their second film, Surfs Up, is a movie that I have a lot of nostalgia for, and while it might seem shallow, it has some very touching and heartbreaking moments. If you want a slightly less self-serious Pixar movie that still packs an emotional punch, I highly recommend Surfs Up. They followed this with the amusingly zany Cloudy with A Chance of Meatballs, which, while not as good as Surf's Up, is a decent and funny movie. They started their own flagship franchise, Hotel Transylvania, in 2012, and have made two sequel films since.
In addition, they made the truly regrettable Smurfs movies, which you should not watch by any means. But that's not the worst of it. 2017 and early 2018 produced three of the worst animated films of recent memory, The Star, a cloying religious film, Peter Rabbit, an irritating and mean spirited slog, and the worst of all…
The Emoji Movie. Yes, Sony Pictures Animations produced one of the most cynical, cash-grabbing, and unfunny pieces of cinematic trash the world has ever seen. Sony Pictures had lost all of their credibility. Until just a few months ago, when they produced an actually good movie, 2018's Into the Spiderverse, a good, funny, and amazingly animated masterpiece that proved that they were capable of producing quality animation after the garbage fire that was The Emoji Movie. Here's hoping they can keep it up…
About the Writer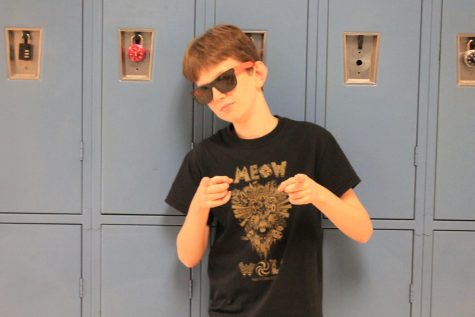 Oliver Barnfield, Cool Guy/Entertainment Editor
Oliver is a Canyon Echoes veteran who currently works as Entertainment Editor, and he also directs and stars in The Opinionist, Canyon Echoes 1st video...