Introducing MATHCOUNTS
While some students might gripe and groan about math, others come to school early in the morning to get more! According to the official website, MATHCOUNTS is a non-profit organization that seeks to provide special opportunities to middle school students who are interested in challenging math programs in order to advance their knowledge academically. Unlike most other clubs, which were created at Canyon Vista, MATHCOUNTS is actually the school's participation in a program of the nationwide MATHCOUNTS Foundation.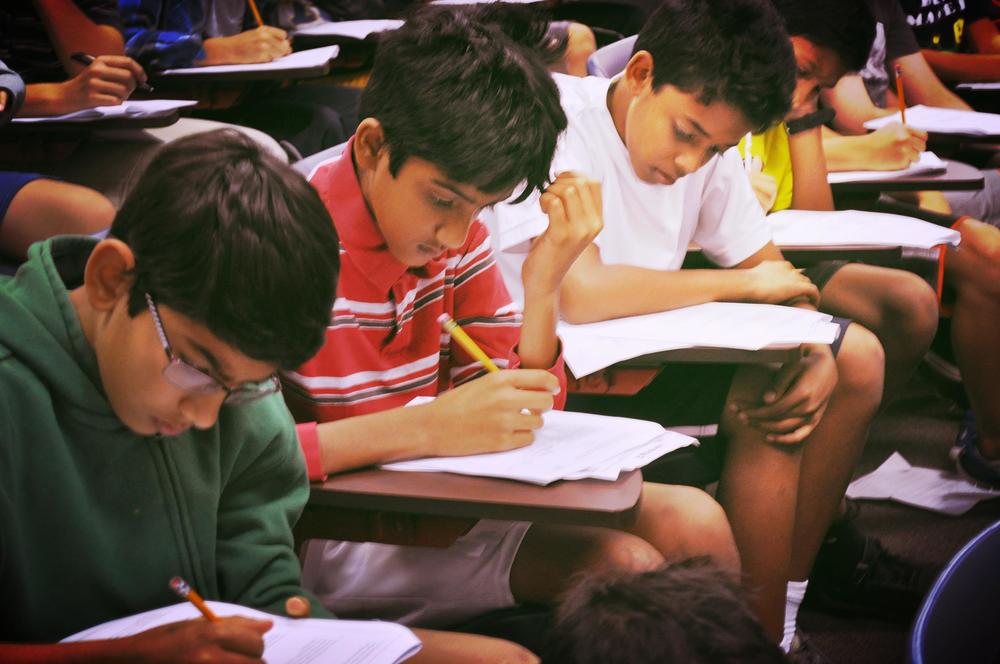 The program that Canyon Vista students participate in is called the Competition Series. There are four levels of competition: school, chapter, state, and national. Each competition is made up of four parts— the Sprint, Target, Team, and Countdown Rounds. In the Sprint Round, students are given 30 questions, and they have 40 minutes to answer them. The Target Round consists of four sets with two questions each. The students get six minutes to complete each set. True to its name, the Team Round allows the team to work together. They receive 10 questions to solve in 20 minutes. The Countdown Round, which may be administered officially, unofficially, or simply left out, is a verbal round with students competing head-to-head. Only up to 10 students in the top 25% participate in the Countdown Round.
Last year's team went to the chapter and state competitions. They placed 1st in the Travis County Mathcounts Chapter Competition, and 11th place in the Texas state competition. The team had four members: two 8th graders who are now in high school, and 7th graders Daniel B. and Kevin L., who are currently Canyon Vista 8th graders. Daniel and Kevin are in MATHCOUNTS again this year, along with many other students who hope to make this year's team.
Daniel and Kevin did very well last year; they achieved 2nd and 6th place in the Countdown Round at the chapter competition, respectively. In fact, Kevin said that his favorite part of MATHCOUNTS last year was the Countdown Round. Daniel said that he also enjoyed going to competitions.
Mrs. Lauffer, one of the MATHCOUNTS sponsors, said that her favorite part of the club last year was watching the kids love doing hard math problems. Similarly, Daniel and Kevin said that they wanted to be in MATHCOUNTS because they liked math and it was fun.
Lauffer and co-sponsor Mrs. Nosal, have made some changes to the program from last year. "We split our entire club of 100 students into two groups in order to provide better coaching and learning," said Lauffer. So far this year, there have been six MATHCOUNTS meetings, and the students have already been split into their groups.
MATHCOUNTS meetings are held every Tuesday before school, from 7:20 to 8:10 a.m. in the lecture hall. It looks like the club is already working up to the competitions and the team will be formed before you know it! Let's all wish them luck in this year's competitions— we're really counting on them!