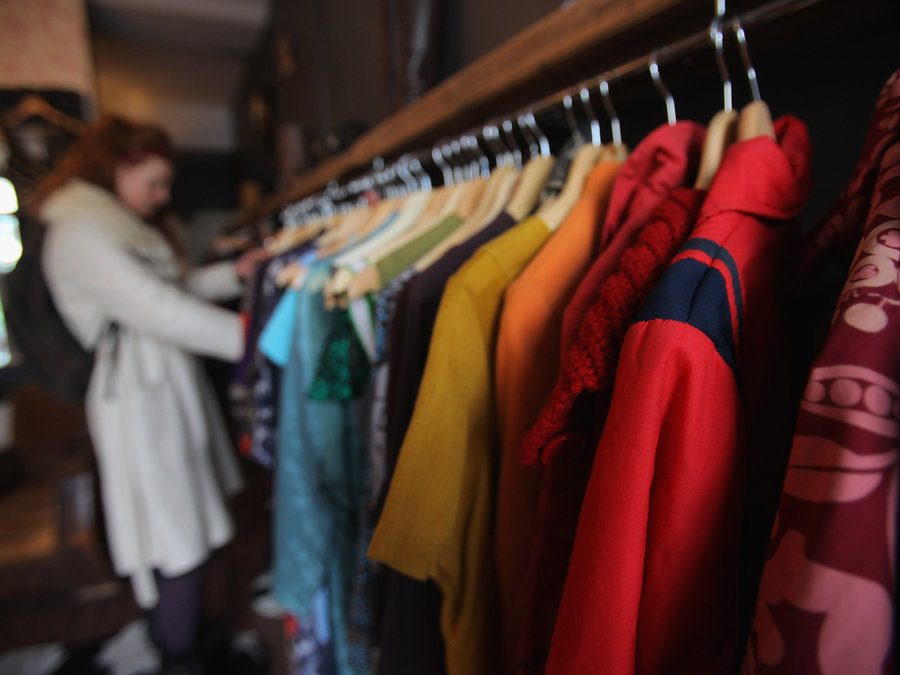 Fashion Through the Decades                   
From sparkling flapper gowns to swinging floral skirts from the 60s, through the decades fashion is rapidly changing with the times and adjusts based on the fashion icons of the time.
Here is a round-up of the most impactful fashion trends from the 1920s to 2010s.
1920s ~ The 1920s was a time lapsing into the modern era and from speakeasies to the introduction of red rouge( lipstick) into the prominent market, this time was a height for new fashion ideals.
Trends:
Drop waist dresses

Silk Shawls

Feather Fans

Flapper dresses

Glittering headbands

Art Deco designs

Short sleek bob haircuts

Garconne Style
             Style Icons Of The Time:
Joan Crawford ( Hollywood Starlet)

Colleen Moore ( Film Actress and upriser of the Bob hairstyle)

Clara Bow ( Silent Film Actress)

Coco Chanel ( Fashion Icon)

Zelda Fitzgerald ( First American Flapper) 
            1930s ~ The 30s were at time of Hollywood Glam and crepe de chine gowns that swept the nation. From the era of the Great Depression to the Hollywood Glam buzz, this was a revolutionary time.
Trends:
Pochette clutch bags

Oxford Shoes

Cinched Waist Bodice

Oversized Collars

"Town Tailored"

day dresses

Makeup cosmetics( despite the depression in America)
                     Style Icons Of The Time:
Bette Davis ( Feminist Icon and Film Star)

Wallis Simpson ( Media and Fashion Icon)

Vivien Leigh  ("Gone With The Wind" Starlet)

Katharine Hepburn ( Lifetime Awardee and Menswear Trend leader)

Joan Crawford ( Trend Setter)

Daisy Fellowes ( Heiress and Fashion Editor)
       1940s ~ During World War II, fashion altered dramatically due to limited and increasingly decreasing supplies of clothing. This era was full of rationing for the war, yet glam in Hollywood was still at a peak in fashion.
Trends:
Sweetheart keyhole dresses

A-line suit skirts

Cardigan sweater

Bolero jacket

Denim work overalls ( think Rosie the Riveter)                                

High waisted button trousers

Bobby socks with saddle shoes

The Bikini was invented ( 1946)

Oxford Shoes

Neckerchief
                                        Style Icons Of The Time:
Ingrid Bergman ( Casablanca starlet )

Christian Dior's Fashion line

Ava Gardner ( chic Hollywood star)

Doris Day ( "Romance On The High Seas"icon )

Grace Kelly ( Then model and later the Princess of Monaco)
                1950s ~ Poodle skirts, swing dresses, and Taffeta cocktail gowns were staples in the 50s. These looks emulated Hollywood luxury and sock hop style.
      Trends:
Pearl necklaces

Poodle skirts

Boat neck dress                                               

Waist cinch belt

Petticoat

Dark red lipstick

Crew Neck Cardigan
                               Style Icons Of The Time:
James Dean ( "

Rebel Without a Cause" actor)

Elizabeth Taylor ( Hollywood Glam actress )

Christian Dior ( French Fashion designer)

Grace Kelly ( Actress and Princess of Monaco)

Elvis Presley ( Pop star and actor)

Chanel  (Fashion line)

Sophia Loren ( Italian Film actress)

Audrey Hepburn (Award-winning actress in "Sabrina" and " Funny Face"  and a human rights activist )

Givenchy (Fashion designer)
1960s~ The flower power movement, passive ideologies, nonviolent resistances, and down to earth hippies, the 60s were a time of peace and flower print.
Trends:
Go-go boots ( created by French designer Andre Courreges in 1965)

Bell-bottoms ( Popularized by Sonny and Cher)

Miniskirts ( part of the Women's Liberation Movement)

Tie-dye tees ( Hippie vibes)

Turtlenecks ( made popular by Steve McQueen among others )           

"Town Tailored"

day dresses

Makeup cosmetics( despite the depression in America)

Afros ( Popular with man and women)

Mood rings

Hair ironing ( new fad which died out completely by the 80s)

Granny Glasses ( made popular in the 60s by John Lennon among other  musicians)

Mod Color blocked dresses
Style Icons Of The Time:
Audrey Hepburn ( for a second decade because she is an actual LEGEND)

Twiggy ( model and British Cultural icon)

Jacqueline Kennedy Onassis ( First lady and style influencer)

Mia Farrow (

" The Rosemary's Baby Star"

and Frank Sinatra's former wife"

Marianne Faithful and Mick Jagger ( Rock and Roll idols)

Cher ( Influencer with flared trousers and hippie style)

Yoko Ono ( John Lennon's wife and mod style trendsetter)
     1970s~ Hippies, tie-dye, and bell bottoms. What more is there to say.
Trends:
Ponchos

Halternecks clothes

Super bright colors ( early 70s)

Platform boots

Tracksuits                                                             

Roller skates

Suede

Culottes

Turtleneck sweaters

Flowing floral skirts
Style Icons Of The Time:
Bianca Jagger ( Socialite and up and coming model)

Cher ( For the second decade as the latter half of

" Sonny and Cher"

David Bowie ( And his 70s pop alter ego)

John Travolta (" Saturday Night Fever" and "Grease" cinematic icon)

Elton John( trendsetter with his Sephia shades)

ABBA ( Jivvy tunes and flared white jumpsuits)

Farrah Fawcett ( TV icon in " Charlie's Angels"  

Meryl Streep ( Award-winning actress)
                 1980s- Pink neon bangles, crazed, fluffy hairstyles, and blue electric eyeshadow were daily dos in the 80s.
Trends:
Shoulder pads ( Yikes, what a trend)

Leg warmers

Huge bangle earrings

Fingerless gloves                                                   

Oversized tops

Fanny Packs

Reeboks

Scrunchies
Style Icons Of The Time:
Madonna ( Leather tutu pop star)

Princess Diana( Let's remember that super 80s royal wedding)

Michael Jackson ( "Thriller" and " Beat It"  dancer and singer legend)

Jane Fonda ( Exercise video phenomena)

Bananaram ( Disco punk dream starlets)
1990s~ "Friends" , velvet chokers, distressed denim, and lace sheer dresses were part of the 90s lifestyle that brought the oncoming century to a cusp.
Overalls

Butterfly clips

Chokers ( Revolutionized the edgy rocker look)

Jelly Sandals

Brown lipstick pencils( Popularized by Drew Barrym

ore and Brandy among others)

Windbreakers

Crop Tops ( Think

"Destiny's Child"

,

Britney Spears, and Christina Aguilera)

Denim on Denim ( The iconic look by Justin Timberlake and Britney Spears)

Mom jeans

Dr.Martens

Grunge look

Plaid shirts and basically everything plaid
                                             Style Icons Of The Time:
Jennifer Aniston ( The famous " Friends" haircut that 

fans adored)

Winona Ryder ( Part of the " Retro Resurgence" movement and famed  "

Heathers

" actress )

Gwen Stefani ( Her legendary

" No Doubt Days"

)

Jennifer Lopez ( Dancer and singer AND actress)

Lark Voorhies ( As Lisa Turtle in

" Saved By the Bell"

)
Early 2000s~ On the edge of a new era, the 2000s were a time of pop music, rap, the Obama election, the selfie's birth, and the new millennium that brought the revolution of the Apple iphone and many other inventions that raised the bar of new technology.
Trends:
Low-rise designer jeans

Juicy Couture tracksuits

Rhinestones ( Basically on everything…)

Halter tops

Tattoo choker necklaces

Jeans with bedazzled pockets

Frosted lip gloss

Polo shirts

Peasant top

The ipod

The first iphone

Uggs
Style Icons Of The Time:
The Backstreet Boys

NSYNC

Shakira

Paris Hilton

Sarah Jessica Parker

Lady Gaga

Rihanna

Britney Spears

Mandy Moore

Jennifer Lopez
2010s~ A era of uprising hipster fashion, sportswear, grunge, and skater fashion. In a time of social media and high technological advances, the world of fashion and beauty has been revolutionized by social media stars and bloggers. Instagram and Snapchat have forever altered this glued to the screen generation.
Trends:
Skinny jeans ( high rise cut)

Khaki trench coats

Floral print and Embroidery

Power suits

Boyfriend jeans

Velvet choker

Pixie haircuts

Cut outs

" Instagram"

heavy makeup looks

Pattern on pattern

Brands such as

"Adidas" 

and "

Nike"
Style Icons Of The Time:
The Kardashians

Beauty and Insta Lifes

tyle bloggers

Taylor Swift
Kayne
Beyoncé
Drake
Along with actresses with poise and beauty such as Keira Knightley or Charlize Theron