Presidents' Day
Today, February 15th, students are able to stay at home for an extra day, thanks to the famous holiday known as Presidents' Day, which is celebrated on the third Monday of February every year. While most students will be at home playing games, spending time with family, or finishing homework, few actually pause to contemplate Presidents' Day and what it celebrates.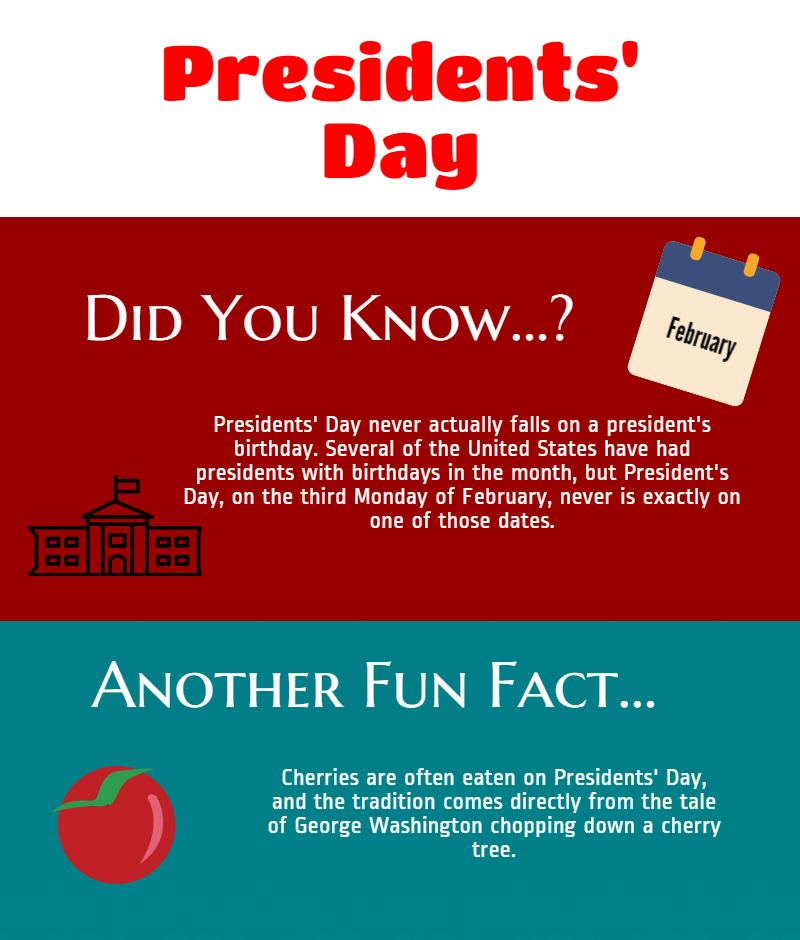 According to History, Presidents' Day, which is still officially known as Washington's birthday by the US government, did not become a federal holiday until the late 1870s, and was signed into law in 1879 by President Rutherford B. Hayes. Initially, this holiday only applied to the District of Columbia, but then extended to the entire nation in 1885. Today, Presidents' Day celebrates not just George Washington, but all of the past and present presidents in the history of the United States.
One of the traditions that people practice on Presidents' Day is putting cherries in deserts that they make. This relates directly to the famous story of George Washington's chopping down the cherry tree. When confronted by his father about cutting down a cherry tree, he stated the well-known quote, "I cannot tell a lie." Another tradition that the government has done since 1888 for most years is reading George Washington's farewell speech in the senate.
According to SoftSchools, a small fun fact about Presidents' Day is how people spell it. President's Day celebrates only one president, while Presidents' Day honors multiple. This is most likely a result of how a lot of people celebrate only George Washington on the holiday, while others honor several or all of the presidents, like Abraham Lincoln, Ronald Reagan, and more.
"I switch my views regularly regarding my favorite president. Often it is Theodore Roosevelt due to the sweeping reforms he helped bring about during the Progressive Era, but I am inclined to respect any president who sees his office as a position of public service rather than personal gain." said Mr. Fletcher, an 8th grade history teacher. "A president should never be revered for the power he has but rather for the dedication to service he provides. Anyone that might question this should look at how much a president ages over his time in office."
Whatever you choose to do on Presidents' Day, whether you are just catching up on sleep or going on a trip with family and friends, take a moment to honor all of the presidents that have served in the United States, and what they have done to contribute to our country. Each and every one of them, no matter how short or long of a presidency they have held, have all had a great impact on the lives of America today.