Where Are They Now: Kelly Johnson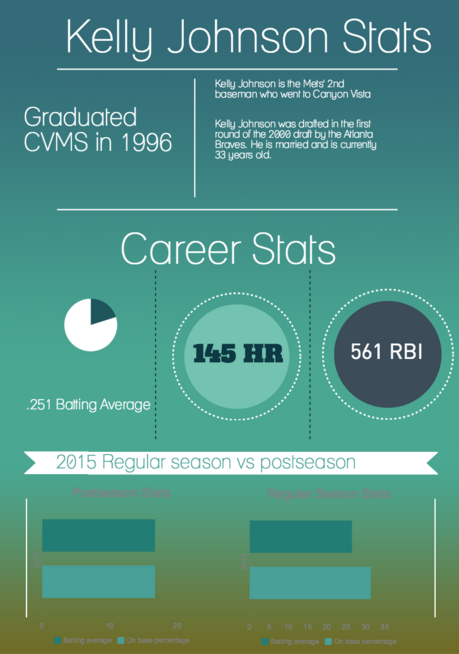 Canyon Vista has brought up many great Mustangs and one of them is Kelly Johnson, the second baseman on the New York Mets. He graduated from Canyon Vista in 1996. He was drafted after high school in the first round of the 2000 draft by the Atlanta Braves and has played on 8 different teams.
Kelly Johnson is married and has three kids. He is currently 33 years old and was born on February 22nd, 1982. At Canyon Vista, he played basketball and ran track. He actually scored more points than anyone else at Canyon Vista. At Westwood high school, along with baseball, he played basketball. He received a baseball scholarship to Texas A&M but chose to forego college for a chance to play in the MLB. He was taken by the Atlanta Braves in the first round with the 38th pick in the 2000 draft.
He made his MLB debut as a 23 year old on May 29, 2005. He got his first hit on June 3, 2005. He hit his first home run June 14, 2005 and on June 17, 2005 he hit two home runs. Johnson's best year was in 2010 with the Arizona Diamondbacks where he hit 26 home runs, drove in 71 runs and had a slash line of .284/.370/.496. Since then he's struggled to find a home, but he's made a career out of being a utility man since he can play many different positions.