Good Week/Bad Week – April 4th-11th 2018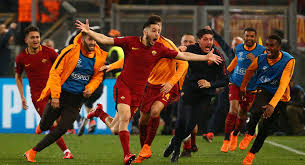 What drama in the Champions League this year! The four quarterfinal matchups promised to be interesting story lines to follow, and they did not fail to live up to their expectations. From heroics in Rome to a meltdown in Madrid, relieve all the best moments of the Champions League Quarterfinals!
Good Week- Liverpool's defense
All season, questions have been asked of Liverpool's defense. Everyone knows the firepower of Salah, Mane, and Firmino, but too often this year, the backline has been exposed and easy goals have been scored. Then, in the first leg vs Manchester City, they kept a clean sheet in a 3-0 home win, where they shut down the world's top-scoring team, with Trent Alexander-Arnold keeping Leroy Sane quiet and Dejan Lovren looked (finally) like a world-class center back. Another clean sheet ensued in a 0-0 draw in the Merseyside Derby at Goodison Park against Everton. Then, another great defensive display in a 2-1 victory in the second leg of the Champions League versus City. They survived an absolute attacking onslaught, with Virgil van Dijk handling the aerial threat and Loris Karius saving every shot that came his way. Man City took 20 shots in the game. 20. And they scored one goal. Well done.
Bad Week- Pep Guardiola
Pep's Man City have lost five times this season- Shakhtar away, Liverpool away, Liverpool away, Manchester United at home, and Liverpool at home. Three of those five losses have come in the past 8 days. Three of those five losses have come against Jurgen Klopp's Liverpool. They can not figure out how to beat the Reds this year, and it is spoiling this season. And to top it all off, they were winning 2-0 at halftime at home against fierce rivals Manchester United, which would have sealed their spot at the top of the table with six matchdays left, the quickest title victory in PL history. And then they conceded three goals in 17 minutes, including two from Paul Pogba (who we'll mention later), and lost 3-2. Guardiola could have completed the greatest coaching season ever with three wins. Instead, three losses came and he looks a total bottle job.
Good Week- Paul Pogba
The day before the Manchester derby, Man City coach Pep Guardiola claimed that he had the opportunity to sign the 24-year old french midfielder in January, but deemed the transfer too expensive to follow through with. How did he respond? By scoring two goals in less than 90 seconds in the second half and leading a comeback from 2-0 down to 3-2 up against their City rivals. Not bad from a man who hadn't scored in two months after coming back from injury.
Bad Week- Chelsea
The Premier League title holders are now almost guaranteed not to finish in the top four this year after a 1-1 draw with West Ham left them ten points behind Tottenham Hotspur in fourth place. Since when has a champion put up this sad of a title defense? Honestly, probably the 2016-17 Leicester City squad, who looked like relegation candidates before they miraculously won the title in 2015-16, then finished 12th and were in the relegation zone for a short period of time the next year.
Good Week- Cristiano Ronaldo
Over the course of the week, Real Madrid have beaten last year's CL finalists Juventus 3-0, drawn with cross-town rival Atletico Madrid 1-1, and lost to Juventus 3-1. But its been a great week for Los Blancos. Why? Because they beat Juve 4-3 on aggregate to qualify for the semifinals of the Champions League, and Ronaldo was the reason for it. In the first leg, Ronaldo scored two goals, including a breathtaking bicycle kick that made the fans in Turin stand up and applaud the 33-year old Portugal international. And in the second leg, he scored the tie-winning goal in the 97th minute after the Old Lady had scored three and made the tie level before they imploded at the end of added time. Ronaldo also scored in the Madrid derby. Decent.
Bad Week- Gianluigi Buffon
It was all going so well for Juve. They were leading, 3-0 against Real Madrid, to force extra time (the aggregate score was tied, 3-3), and potentially cause an upset away from home and stun their opposition from last year's Champions League final. Then, Medhi Benatia bodied Lucas Vasquez from behind and the Madrid forward went down, albeit very softly. The referee, Micheal Oliver, points to the spot. Then, Juventus's 40-year old goalkeeper/captain/club legend started screaming in Oliver's face. Red card. Ronaldo converted the penalty kick, and just like that, Real were into the semifinals.
Good Week- Roma
They were down, 4-1, on aggregate, to the only undefeated team in the world, Barcelona. Surely the Italian minnows couldn't score three goals unanswered on Ernesto Valverde's side? But then, Edin Dzeko's tap-in, Daniele de Rossi's penalty, and Kostas Manolas's header sealed a 3-0 victory at home, sending the city of Rome into celebration as they broke Leo Messi and co.'s dream of a treble.
Bad Week- Roma
This summer, who will be the hottest names on the transfer market? Edin Dzeko, who has scored 59 goals and counting in the past two seasons, and also the first goal in the 3-0 Barcelona win. Kostas Manolas, who has been a defensive rock for the Giallorossi since he joined them in 2014, and scored the third and final goal at the weekend. Cengiz Under, who has 12 goals and five assists this season- and came on as a sub and served up the assist for the Manolas goal. And any other Roma player with potential and talent (Allison, Florenzi, Nainggolan, El Shaarawy, Schick) will be summer transfer targets- and potentially sales.
Good Week- Hasan Salihamidzic
If you've never heard of this guy before, that's okay. During his playing career, he was never really special, even though he made over almost 250 appearances for Bayern Munich as a midfielder. However, now, he's the sporting director of Bayern Munich, which right now is the best job on the planet. His club wrapped up the league title with a 4-1 win against Augsburg, their sixth in the row. They are into the semifinals of the champions league, and he recently secured a new coach for the next season after their current manager, Jupp Heynckes, retires. To make it even better, the new coach will be 46 year old Niko Kovac, the current manager of 5th-place Eintracht Frankfurt, who is also his ex-teammate and close friend. What a time to be alive for the Bosnian.
Bad Week- All Bundesliga clubs not named Bayern Munich
It's official- Bayern Munich are the most dominant side in the world. They won their SIXTH (SIXTH!!!!!!!!!!!!) successive Bundesliga title this weekend after a win against Augsburg. The second placed team, Schalke, are 20 points behind them with five games left. The fourth-placed team, and the last qualifier for the Champions League next year, Bayer Leverkusen, are 24 points off top spot. Leverkusen are 21 points off of 16th place-the first relegation spot. The champions league qualifier are closer to being relegated then being top of the table. Mad.