Carrie Fisher: A Soul That Will Never Be Forgotten
2016 claimed many lives; some of them too early. One of those many was Carrie Fisher, known to the world more commonly as Princess Leia Organa. Her passing has made a huge impact on the Star Wars franchise and the people who loved the movies. " I really liked her. She was that sassy princess",  Elena Van Metre (8) said.
   19 years before adorning her iconic buns in Star Wars, Fisher was born to parents, Debbie Reynolds (actor) and Eddie Fisher (singer), on Oct. 21, 1956, in Beverly Hills, CA. When she was two, her father left and caused a big amount of stress for her mother, a blooming actress who had starred in the musical, Singin' in the Rain just years ago. Fisher started taking care of her family as Reynolds slowly became less "aware" of her children. By the time Fisher was in Star Wars, her and her mother were not in the best relationship. But as the years went on, Fisher and her mother bonded strongly and were even starred together in a documentary.
Right before Star Wars in 1975, Fisher debuted in the movie, Shampoo. Just 2 years later, Fisher had gotten the role of Princess Leia in Star Wars: Episode IV- A New Hope, at just age 21. She had actually started filming when she was only 19.
She also starred in Episode V- Empire Strikes Back, Episode VI- The Return of the Jedi, Episode VII- The Force Awakens, and the 1980 film The Blues Brothers. "Princess Leia and Carrie Fisher are amazing. She was really pretty and inspired so many girls," Peyton Halley(8) said.
But Fisher wasn't just an actress. Over the course of her life, Fisher wrote 7 semi-autobiographical books, including The Princess Diarist, published a month before her death, in November. In the book she wrote about her 60 year old self reflecting back on her naive 19 year old self. She also includes diary entries she wrote on the Star Wars set. Another one of her books was Postcards from the Edge, which she wrote after coming back from rehab for drug and alcohol abuse. The book became a great hit and was even adapted into a movie, featuring Meryl Streep.
After Fisher died on Dec. 27, 2016, her close family members got together to hold a personal memorial for their beloved princess. Unfortunately, her mother, Reynolds, passed away, apparently under stress, only a day after her daughter. Reynolds' son and Fisher's brother, Todd Fisher, was the most impacted by the deaths of his loved ones, and continued his mother's plans for Fisher's memorial. On Jan. 5, 2017, a private memorial was held for friends and family at Fisher's and Reynolds'  home in Coldwater Canyon, Los Angeles. She was buried the next day, alongside her mother in Forest Lawn Memorial Park, in Los Angeles, where other famous actors and actresses, like Telly Savalas and Lucille Ball are buried as well.
But a public memorial for her was set up in New Orleans on Dec. 30, 2016, where thousands of  fans showed up with side buns, wookie masks, and dressed up as other characters, all wielding shining lightsabers. That December night, the thousands raised their lightsabers to honor the woman they considered like royalty. The memorial was fit for the former princess.
Now with Fisher gone, her Star Wars baton will handed to her daughter, Billie Lourd, who stars in TV series, Scream Queens. Lourd has been given a bigger more important role in the next movie, and is expected from Fisher's many fans, to fill her mother's large footsteps.But as one of the most influential female characters of her time, Fisher and the princess from the galaxy far far away will never be forgotten by the millions of people who grew up watching her.
About the Writer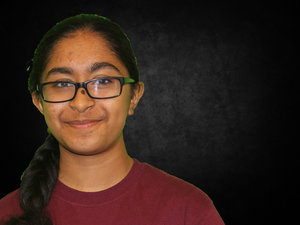 Riddhi Jakkal, Editor
Riddhi is back for a second year at canyon echoes, this time as an editor. Riddhi has joined again because of her love for writing and photography. Other...