Opinion: Why the CSL is Ruining Soccer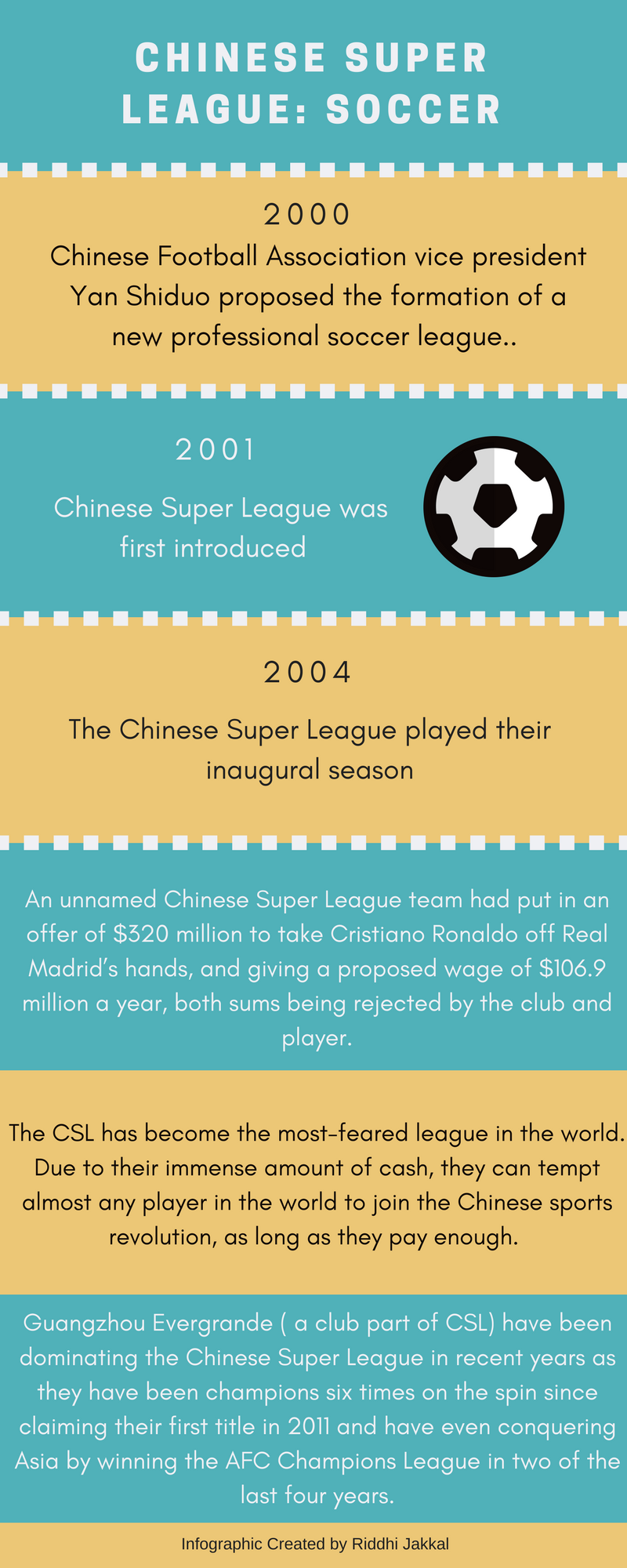 When the Chinese Super League was first introduced in 2001 and played their inaugural season in 2004, no one could have predicted this.  They went from just another soccer league to the one of the richest professional sports leagues in the world, attracting star players in the prime of their careers for immense sums of money. But how did this happen? How did China become the destination for players looking for a paycheck?
For that answer, we must rewind to Oct. 29, 2000, when Chinese Football Association vice president Yan Shiduo proposed the formation of a new professional soccer league. Two years later, it was greenlit. From there, the CSL hasn't stopped spending, thanks to heavy investment by the Chinese government and other rich businesses such as Evergrande Group, Alibaba, and Suning Commerce Group. It is no secret that Xi Jinping is a major sports fan and has stated that he wants to turn Chinese soccer into "the best in the world". And he is willing to spend whatever money possible to achieve that dream.
Because of all the money put into Chinese clubs, teams have some of the largest transfer budgets in pro soccer. Top players from some of Europe's best teams have made the jump to the Far East. But it was last year when the CSL established its name within Europe's elite.
In the 2015/16 transfer windows, clubs such as Jiangsu Suning, Guangzhou Evergrande, Hebei China Fortune, and Shanghai Shenhua splashed the big bucks to bring in European stars. Brazilian midfielder Alex Teixeira was a target for Juventus, Inter Milan, and Chelsea going into the 2016 winter transfer window. Where'd he end up? Jiangsu Suning, who payed Shakhtar Donetsk $55.6 million dollars to land his services, and paying the 26-year old $11.5 million per year in salary.
This transfer signified China's intent to do damage in the market. They stole a gifted player in the prime of his career from under the noses of three of the richest and most prestigious clubs in the world. But before the glitz and glamour of European stardom could take Teixeira to the top, China's allure of cold, hard cash put him on the wrong side of history.
This winter, China's spending power has grown. Soccer became the most watched thing in China. All these benefits led to more heavy investment by Xi Jinping and Alibaba Group. And what does that mean? More players moving to China!
Chelsea midfielder Oscar and Boca Juniors striker Carlos Tevez both took the plunge to the CSL this winter, to Shanghai SIPG and Shanghai Shenhua, respectively. 25-year old Brazilian playmaker Oscar joined up with compatriots Elkeson and Hulk at the Shanghai Stadium for a reported fee of $75.4 million, bagging a wage of about $450,000 a week with Andre Villas-Boas' side.
Tevez, on the other hand, moved from hometown club Boca Juniors to link up with Gus Poyet and his squad at the Hongkou Football Stadium. Both teams confirmed the 11 million-dollar deal, a fairly small figure compared to other transfers. But what makes this transfer special is his wages. Multiple sites have reported that his salary is $760,632 per week, nearly 15 times what the average American makes a year. His earnings would put "Carlitos" above players such as Cristiano Ronaldo and Lionel Messi as the highest-earning player in the world.
But it isn't just the actual moves that are scaring Europe. Players such as Real Madrid's Pepe, Chelsea's Diego Costa, AS Monaco's Falcao, Manchester City's Yaya Toure, Juventus' Dani Alves, and Barcelona's Arda Turan have all been linked with moves to the Far East, with newly promoted Tianjin Quanjian the primary creator of these rumors. Cristiano Ronaldo's agent, Jorge Mendes, said that an unnamed Chinese Super League team had put in an offer of $320 million to take the Portuguese superstar off Real Madrid's hands, and giving a proposed wage of $106.9 million a year, both sums being rejected by the club and player.
The CSL has become the most-feared league in the world. Due to their immense amount of cash, they can tempt almost any player in the world to join the Chinese sports revolution, as long as they pay enough. When Xi Jinping said that he wanted to make Chinese soccer the best in the world, no one thought it could be possible. But if the amount of incredible spending and insane investment continues, Jinping may just get his wish.
Leave a Comment
About the Contributor
Andrew Bailey, Reporter
Andrew lives and breathes sports. When not playing football for Canyon Vista Middle School or soccer with his soccer team, you can find him at work refereeing...