Barbara Bush, Former First Lady dies at 92

On April 17th, Former First Lady Barbara Bush died at the age of 92. She was in extensive care for her heart complications and intensifying pulmonary disease. It was announced on April 15th of this same year that she was no longer going to seek medical care but to say at home with her family for the remainder of her life. She was known for her strong work for literacy. Though she loved reading from a young age and always valued education, she never attended college.
Mrs. Bush was motivated in her substantial efforts for education and literacy based on both her genuine love of reading and her son's dyslexia.Nearly 25 years ago, she founded the Barbara Bush Foundation For Family Literacy which strived and continues to strive to seek higher education for all ages of children. Mrs. Bush wanted to decrease illiteracy rates and she recognized that literacy programs are the key to bettering all children and increasing their chance to succeed in life.  Her foundation along with partnering foundations have raised nearly 40 million dollars as of 2014 to broaden American literacy exponentially. She also volunteered continuously at the YMCA even before her time at the White House.
Besides her generous and amazing work for her American Literacy program, she was both the First Lady To George H. W. Bush and the Mother to George Bush, is the only lady to be both wife and mother to two US presidents besides the 2nd First Lady Abigail Adams. During her time as First Lady she wrote a novel entitled " Millie's Book: As Dictated to Barbara Bush" which was a depiction of the White House as seen through the eyes of her charming Spaniel dog Millie. The book's profit reached to nearly one million dollars which were donated to literacy programs. Though in her first year at the White House she was diagnosed with Graves' disease she never strayed from doing her part and was a strong and witty survivor. Up until the end of her life, Barbara Bush was known for her unresisting manor and fiery composition. "It will not surprise those who know her that Barbara Bush has been a rock in the face of her failing health, worrying not for herself — thanks to her abiding faith — but for others," A statement from the Chicago Tribune said spokesman Jim McGrath said early this week. She lived a long life and her legacy will never cease to exist.
About the Writer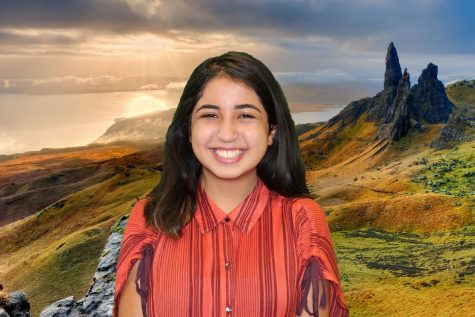 Keana Saberi, Reporter
Keana is a funny and sweet 8th grader. She absolutely adores Hamilton and has memorized every lines. She loves sushi and ramen soup and devours British...