Fashion Perspective: 2018 Met Gala, Fashionable or Just Plain Atrocious?
On Monday the 7th, one of fashion biggest events, the Met Gala took place. As one of the most high profile, celebrity-studded events of the year, the gala is the is a gigantic and renowned event but is this year's theme on the controversial side? The Met ( or The Metropolitan Museum Of Art) in New York City  is the home of cultural and historical works of art that are cherished by the public.  The Museum gives off an inspirational aura that welcomes artists from around the world.
Since its founding in 1870, the museum has received generous artifacts and works from curators and patrons and now the Met has grown to represent nearly 5,000 years of art from scattered places in the world. The Met Gala is an exclusive party held at the Met once a year where celebrities and icons dress according to a specific art-centered theme. Art is donated for exhibitions around the year's theme from other famous art galleries as well as from private collections.
For this year's theme, Met curator Andrew Bolton wanted to incorporate religious symbolism with high fashion and while many stars strutted the red carpet in style, others were shown off as garnish and overly flashy. Bolton wished to mingle a variety of religions for this year's central aura, yet decided against it saying the topic might be too broad and instead he choose Catholicism and the idea of heavenly bodies which is a heavy centerpiece in the Catholic faith. Bolton believed that focusing in only the Catholic religion might help to strain away possible misappropriated offensive red carpet looks. The Vatican ( the headquarters for the Roman Catholic Church) signed off as this being appropriate, so Bolton went ahead with this plan and decided to exclude other religions as to not downplay their symbolism as opposed to Catholicism.
Despite trying to relieve tension, this year's Met was darkened by some controversial issues. Some believe the gala has been encroached by the fact that many of the guests wore outfits that were not entirely representative of this year's theme while others took the theme too far and left people to ponder or to take a second glance. One other hitch is that many people see the Met Gala as more of a socially driven event where celebrities show off thousand dollar gowns and designer brands instead of a fashion platform or an event donating to a charity of cause. Some of the Gala's ensembles will be donated to the Met's Heavenly Bodies Exhibition and be on display for a certain timeframe. Though these controversial issues have arisen, many people still view the Met Gala as the Fashion show of sorts, and an iconic party that displays themes( whether they be religious or naturalist or simplistic)  in the form of high cultured art.
PHOTO CREDIT
About the Contributor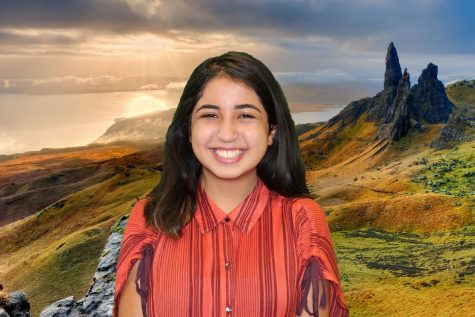 Keana Saberi, Reporter
Keana is a funny and sweet 8th grader. She absolutely adores Hamilton and has memorized every lines. She loves sushi and ramen soup and devours British...