Spring Show: An Insider Perspective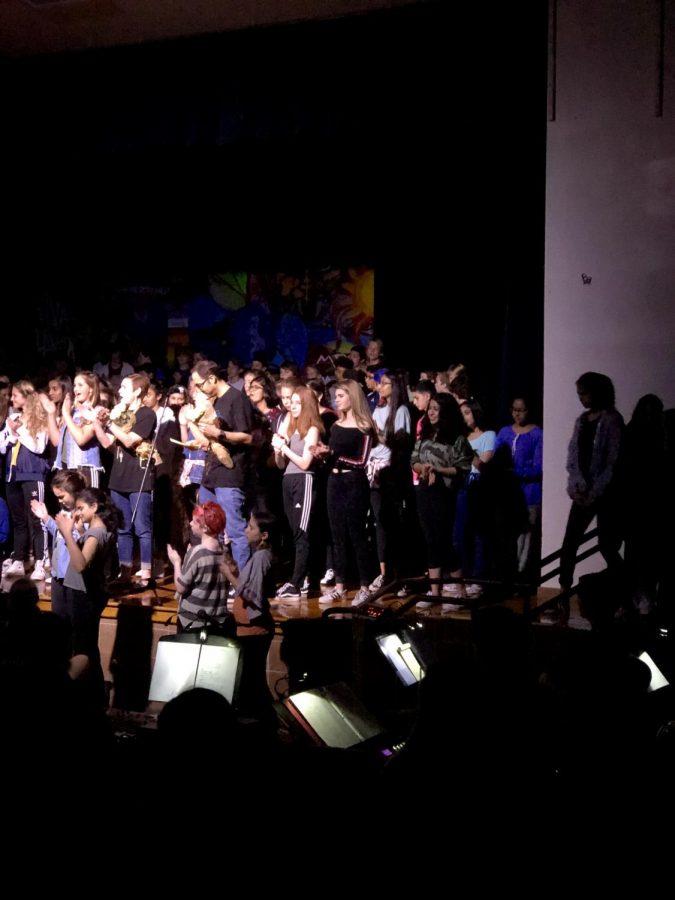 Friday night. We sit all intent as Vara speaks, his voice echoing through to the masses. We devour our piping hot pizza and then we get to work. After weeks of preparation,  it's finally the night before show day. Class periods spent learning choreography, jamming our songs, and vocalizing finally comes to an astounding result. Friday's practice takes almost till 8:00 o'clock and we are extremely worn out. We run all the numbers, costumed and driven through our are anticipation. We work as a time driven team, brought together by our shared goal. We sing our hearts out, our best work yet and at the moment the lights scatter upon our faces, we are all frozen in a spellbinding moment. We leave after a quick pep talk with Vara and Mrs. A and with that we are mentally and physically prepared for the long day tomorrow. At 10:50( and no later because Vara is in Spring Show mood which means GO! GO! GO!) we began a talk through of the day's events and eat an early lunch and with that, we begin. Dressed in our costumes by 11:40 we giggle in excitement and pure nerves.
As the cafeteria fills up to the brim for our 1:00 o'clock show ( which is the slowest show of the day and yet it's mad packed) we take our places, our star qualities absorbing through our skin, the lights shining brilliantly on our faces, and from the first musical flutter we come alive, our hearts beating together to the music's rhythm. We go through our first show, rushing to get into our costumes in time, vocalizing in our dressing rooms. By the intermission, we were rid of our jitters and continued our work. By our first bow, we were all in harmony, already tired, but unwavering in our efforts. We snack and laugh and then get ready for the four o' clock show, the second out of three performances. By the time Paradise plays ( the show's opening number), the tune is embedded in us, our toes tapping to the beat. We sing our main choir songs with the whole group including Head Full of Dreams and Viva La Vida, some of Coldplay's most dramatic hits.
One of the show's greatest thrills is running behind the curtains, shushing one another, the heels of our shoes clacking on the wood floor as we wait for the velvety curtains to draw and to reveal us to the audience.  The music crescendos in the background as we prepare, and it swells as we are bestowed to the public. It is a feeling quite like no other. After that, we nom on pizza once more and run off to our dressing rooms for the third and final show. We are exhausted yet persevered in our efforts to make it the best show yet. The last show is even more spectacular than the rest, we all know now precisely the ins and outs and the audience is more exhilarating than before. The featured acts –every one of them from Gabe Paredes' beautiful and warbling Fix You (7) and Charlotte Blackmon's gorgeously toned Help Is Round The Corner (7) to the piano accompanied and resonating Scientist duet by Eighth graders Rosie Deal & Maddie Early and so on. The individual class songs such as  Honor Choir's faultless Yellow ballad and the boys' choirs Adventure Of A Lifetime with its groovy and stylistic dance moves were different and excellent all in their own ways. The Eighth-grade song: A Sky Full Of Stars was a nostalgic tribute to the Eighth graders parting way from Canyon Vista to go on to High school.
In the end, we were bonded as a family, in our creativity, our talent, our silliness. The final bow brought tears to my eyes. After three years of Choir Spring Shows, I had become a part of a family. It was a finale to a great experience. The show ended as the music decrescendos, but the true music will never long linger from my heart.
About the Writer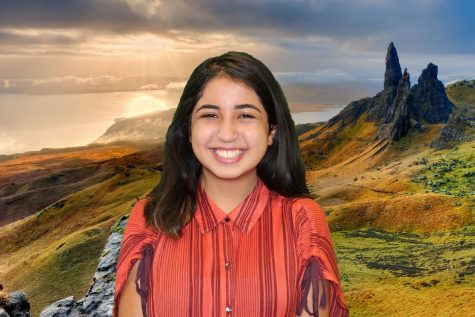 Keana Saberi, Reporter
Keana is a funny and sweet 8th grader. She absolutely adores Hamilton and has memorized every lines. She loves sushi and ramen soup and devours British...