What is the Canyon Vista Cares Volleyball Game?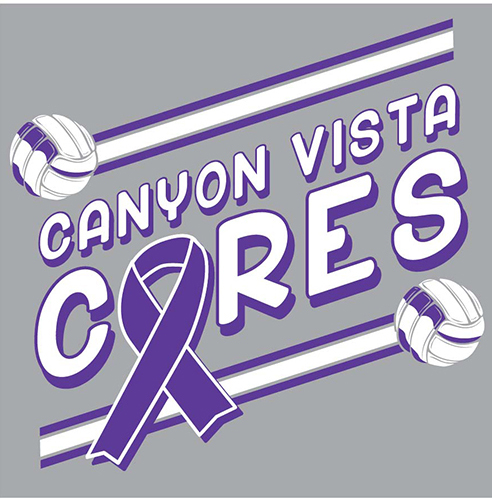 At the end of the year, our school hosts a pep rally/volleyball game for teachers and students to celebrate the culmination of a successful year. But there is more to that than just a fun game. As part of the spirit of the volleyball match, a charity is picked to sponsor the game, and all profits gained from ticket and shirt sales goes towards benefiting the cause. This year, the selected charity is the Alzheimer's Association, a charity that collects money to help find a cure for one of the most common and deadly diseases in the world: Alzheimer's and Dementia.
Many people at our school are affected by these diseases at our school. It is estimated that over five and a half million people over the age of 65 across the USA have a form of Alzheimer's or Dementia. One of them is the mother of our beloved library teacher, Ms. Stiles, who was diagnosed with Alzheimer's.
"It is really hard seeing my mom suffer and know I can't do anything to help her. I am so glad they chose the Alzheimer's Association as the charity for the Canyon Vista Cares game this year. It is a great cause, and every little bit of money gets them even closer to finding a cure for these diseases. It means a lot to me that the entire school is trying to help the cause."
Of course, the event is not just one of sadness. There will be games, songs, dances, and of course, a Staff vs. Students volleyball game to cap off the pep rally. The celebration is first and foremost, meant to celebrate the going-away 8th grade class, but is also held not for our own gain, so the kids leaving the school exit with something to give away. And the Alzheimer's Association is more than deserving of that check, seeing how it affects not just people, but people within our own community.