The Choir Spring Show: Outsider View
The hallway to the cafeteria crowds with people waiting in anticipation for the doors to open. As soon as the doors open, everyone rushes in to get a good seat. A lot of them are reserved, however, and the seats that are left are in the front and on the sides. Many people stand and kneel throughout the whole performance. But no matter what position they are in, whether they are standing on tired and aching feet or sitting comfortably, everyone was entranced by the wonderful performance the choir put on.
This year, the choir did an amazing job of covering Coldplay's songs and even had our orchestra jump in to help with Viva La Vida. I was really proud of how the show went because I had participated in one of the shows two years ago when I was in sixth grade. And because of that experience, I kept thinking about what the performers were going through as they changed, went on stage, finished their song, and relished the moment before having to do it all again.
All of the performances were outstanding, but if I had to choose one that I liked the best, it would be Viva La Vida because it gave me a lot of nostalgia. A close second would be Adventure Of A Lifetime because the dance was utterly hilarious, and I loved how the female choir was on the sides, singing back to the boys near the end.
The solo songs were also very beautiful because rather than the stage being filled with numerous people(which isn't necessarily a bad thing), there were only one or two people up on the stage and their presence was very big. The soloists were probably nervous, but the way they delivered their notes was with confidence.
I'd like to thank all of the choir students, the two directors, Mr. Vara and Mrs. A, and everyone else working behind the scenes, for giving the audience a wonderful performance.
About the Writer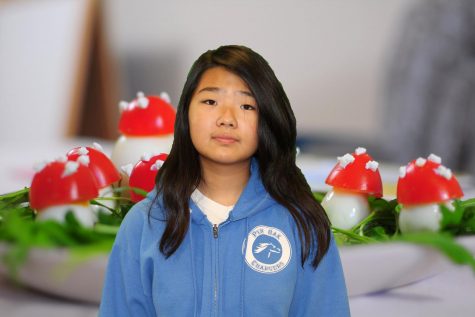 Erith Won, Reporter
Erith is an avid, enthusiastic eighth grader who lives on K-pop and Manga and loves to watch hilariously nonsensical movies. She spends her days listening...