Upcoming Holiday Social
As the holidays get closer, CVMS is getting their holiday spirit on with a school social! It takes place this Friday, Dec.7. Don't forget to wear your best holiday ugly sweater!
The Cost
Usually, our socials cost four dollars at lunch or eight dollars at the door. But for this social, it will be six dollars at lunch or at the door. "I may go to the social,"  Natalie Barone (6) said. "I think that the cost should change at the door, but not at lunch. I am excited, though!"
According to Ms. Gutierrez (6th-grade assistant principal), the total cost of just one social can get up to more than $1,000. That includes the DJ, pizza, decorations, concessions, and DJ rental equipment. In addition, this social will have a lot more since it's a holiday social. As you can tell, the cost is pretty high. So the cost of tickets went up. Concessions will stay the same at $1 to $3 dollars.
Mr. Garza (teen leadership teacher) thinks this change in cost may be because $8 at the door is too high and when tickets are sold at lunch for $4, the lines get very long and some people hardly even get to eat. He also thinks that there is a district policy that says you can only sell tickets one day at lunch: The day of the social. So when you add it all up, there really is no choice but to compromise and make an equal cost.
To add on, a higher cost at the door will lead more people to get their tickets at lunch, which makes the lines even longer. "It's not really a person's fault if they forget their money," Shavria Pathania (6) said, "so the cost should not be $8. I'm glad they're changing that cost, but at lunch should stay the same."
So if you forget your money at home, don't worry! You can pay the same cost. Whether you buy tickets at the door or at lunch, come to the CVMS holiday social to support our school, but mostly, just have fun!
About the Writer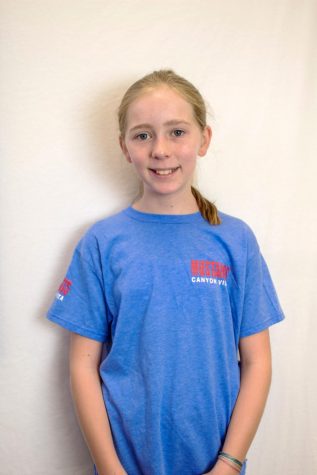 Hannah McDonough, Editor
Hannah McDonough is an eighth-grader here at Canyon Vista. This is her second year in newsmedia and last year, she received a silver medal in UIL for her...