Land of Stories: Book Review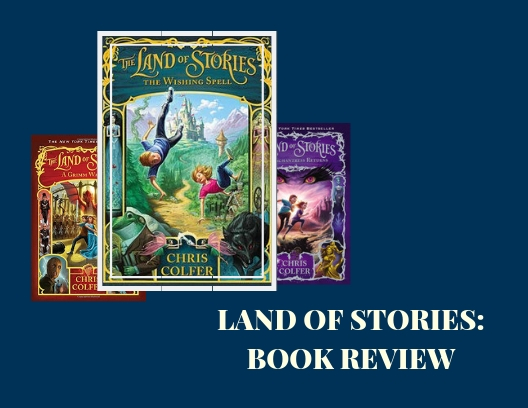 The Land of Stories is an adventurous story of the Bailey twins, combining the well-known classic fairy tales and the modern world into a unique style of the author, Chris Colfer. The Wishing Spell is the first book of the Land of Stories series.
Summary
Alex and Conner Bailey are entirely different. While Alex is a hard-working book-lover, Conner just cannot pay attention. Well, but it makes sense why he does that. The twin's mother is too busy to look properly after the twins, trying to mend the absence of the twin's father, killed in a car accident. The twins' grandmother is the only person the twins can look up to.
One day, the twins are accidentally slipped into another world by a magical book of stories, given by their grandmother. And the unknown land is full of magic and wonder. Leading the twins into encountering face-to-face with the fairy tale characters they grew up reading about. The twins now face an unpredictable, dangerous, adventure; to find the way back to the world they came from.
When they start the long journey, somewhat full of dangerous encounters with witches, goblins, trolls, and others. But that's just not all; more, real danger is ahead of the twins, forcing them to hurry on their journey. For there may be a chance of never being able to return to the world the twins came from.
Review
I think this book is amazing. I thought fairy tales were just stories with the same old pattern. But reading this book made me feel like that was a big misjudgment. This book has this really unique style that I think is cool; with a fairy tale combined with the real world, it makes the twins adventure like an amazing fantasy but so, so real. I just couldn't take my eyes off until I finished it.
I felt like each conversation between the characters had something to laugh for, or sadden for, or something to just can't let my eyes leave the book. And also, I like that I can get to know about each of the characters pretty well. As if the author indirectly pointing out the exact trait of the character. Every sentence, page, chapter feels fluent and thrilling. Because it not only fits the fairy tale world and the world we live in together but each one of the fairy tales is weaved together as if it was originally just one piece of a big, big story.
I highly recommend you read this book (or the whole series). If you did, I hope you enjoyed it too.