The Mirror Visitor Quartet: Introduction and Review
INTRODUCTION….
Firstly, this article includes an introduction to the book quartet akin to all the exuberant worlds of magic already created in novels. Furthermore, the series includes multiple points to unpack and a numerous amount of details to cover. Also included in this article is the interpretation of the distinctive quality of the book, and opinions from the reviewer.
PART 1: ABOUT THE SERIES
(This section does not include spoilers.)
Main Characters/Protagonists:
Ophelia (Ophélie) – Ophelia has shaggy brown plaits, thick round glasses, and a very short stature. She has the power to animate what she touches through an inherited power called Animism. She belongs to a well-known family clan on her planet section, or "Ark," called Anima. Through an arranged marriage, she is betrothed to Thorn.
Thorn – Thorn is an extremely tall, thin man with an aquiline nose and cold eyes. His means of birth left him with lifelong disgrace. Thorn belongs to the Dragon clan, situated in the Pole Ark, and thus, he has the power to induce pain in those he wishes. Originally, he intended to take Ophelia's power as his own.
The series does have an introduction to many more characters. However, they do not hold as much significance as the two listed above.
Official Blurb:
Book 1. A Winter's Promise
The Doyennes (matchmakers on Anima) arrange a marriage between Thorn and Ophelia, disregarding the fact that they have never met one another. Ophelia is thus introduced to the dynamic world outside of her own.
Book 2. The Missing of Clairdelune
Ophelia encounters multiple fatal problems at the Pole Ark, as well as a mortal danger towards herself.
Book 3. The Memory of Babel
Thorn disappears from the Pole for his safety, and Ophelia follows after him. She finds herself on an Ark called Babel, with many a surprise in store.
Book 4. The Storm of Echoes
The Arks face complete and total destruction, and Thorn and Ophelia seek a way to stop this.
PART 2: OPINION AND REVIEW
I breezed through this series rather fast, and it captured my attention from the first book. At first, it was rather hard for me to read, but I gradually became used to the writing style. The story of this series is convoluted and requires full attention. In the end, however, it is rather rewarding, and altogether entertaining.
One thing I found incredible about the series was the particular sheen to its characters. Each had an extremely individualistic quality, which made them separately memorable in an unusual way.
All in all, I thoroughly enjoyed the series.
Leave a Comment
About the Contributor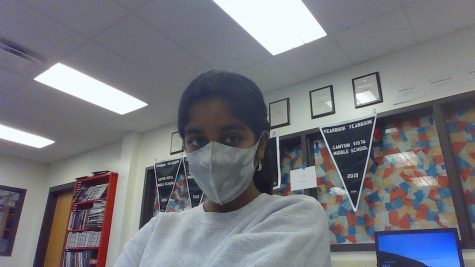 Divya Shankar, Reporter
I'm in eighth grade - I love writing, taking and editing pictures, and watching movies