Fun Things To Do Over Summer Break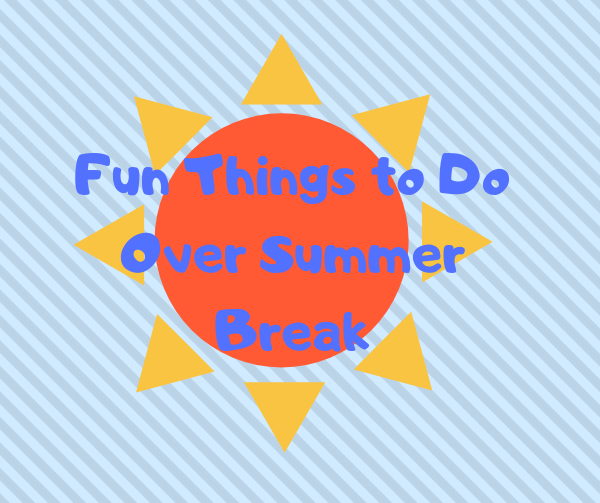 Summer is fast approaching, in fact, we only have three more weeks left of school! If you aren't traveling, or you have a lot of downtime, here are some things you can do to make your summer break the best!
1. Canyon Vista Pool
If you don't have a pool to go to, come join us at the Canyon Vista pool. After school ends, the pool will be open to the public, except for Thursdays. There is always one lane open for swimmers doing laps, but the rest is open for free swim. Also, the diving board will be open. Visit here for the pool schedule. This pool is not as crowded as most public pools, so you will have a lot of space.
2. Austin Central Library
This library is a fun destination if you plan on going downtown. They have six floors of books, computers, and meeting spaces. They also have a rooftop garden, and the book selection is great! You can get a great view of downtown from the library, and it's not far from other places you might want to visit. They have all kinds of clubs and events going on, so be sure to check it out.
3. Bull Creek Greenbelt
Bull Creek is a wonderful creek that winds through Austin. They have a bunch of different parks you can go to, and they are all along Bull Creek. One park that is very close to Canyon Vista (5-10 minute drive) is Saint Edwards Park. They have wonderful trails, waterfalls, and swimming spots that are family and dog-friendly.  But of course, you can go to any access point.
4. Day Trips
There are many fun places to go that aren't far from Austin. You can go and come back in a day, all while having a lot of fun. One good place to go is Fredricksburg, which isn't far from Enchanted Rock. You can explore both. You can also go to the National Museum of the Pacific War. In addition, Johnson City is only 30 minutes away from Fredricksburg, and there you can visit the Science Mill, a fun and interactive science museum. For other day trips, visit the Daytripper.
5. Amy's Ice cream
On any hot, summer day in Texas, a nice scoop of ice cream is very refreshing. There's no better place to go that Amy's Ice cream! They have flavors for everyone including Mexican vanilla and Belgian chocolate, but they also have specialty flavors like Apple Pie and After Dinner Mint. No matter what flavor you get, you're bound to love it! Some locations, like the one closest to us, have playgrounds to run around on.
6. Rock N' River Waterpark
This water park is located in Round Rock, Texas and it isn't too expensive. The most it costs per person (Scroll Down on Link) is ten dollars, and that's if you're an adult. It's a really fun way to cool off with cool features such as a lazy river, rock-climbing over the water, and even a huge platform with cool slides for the younger kids. This water park also has food and cabanas.
7. Brushy Creek Lake Park
This park is located in Cedar Park, and it has beautiful trails that wind around the lake. You can take kayaks and canoes into the water, go fishing, or even ride your bike around. But not only does this park include trails, but it also includes a park with a playground and splash pad. These are right next to picnic areas, so you could go for lunch and have a picnic. In addition, they have a bridge and a wildlife observation area. Also, there are big fields, and sometimes they are covered in wildflowers. This is a fun park that has a little bit for everyone!
8. The Blanton Museum of Art
This museum has some beautiful masterpieces! It costs about $5-$9, but there are certain exceptions that make admission free, one of them being If you are a student. This museum is on the UT campus, so you can visit a lot while you are there. They have paintings, sculptures, and even a bit of photography. While you are at UT, you can also visit other museums including the Bob Bullock Museum.
9. Longhorn Caverns
Longhorn Caverns is a great place to go for some outdoor fun! It was fixed up into a park by the Civilian Conservation Corps, or the CCC, in the 1930s. Now it is a park where you can explore rock formations, have picnics, and learn about the CCC. If you visit Longhorn Caverns, you can also visit nearby Inks Lake State Park. You do have to drive a bit far, but it's definitely worth it.
10. Deep Eddy Pool
Deep Eddy Pool is the oldest pool in Texas. There is a very minimal fee to get in, and there is a lot of space to swim and cool off on a hot summer day. It's about thirty minutes away from CVMS. This pool is actually not chlorinated, they use fresh water. It has lanes for swimming laps and shallow areas for little kids. It has a little bit for everyone, so don't forget to come and visit Deep Eddy Pool.
I hope this article gave you some ideas about how to make your summer break amazing, without spending too much money or going too far.
About the Contributor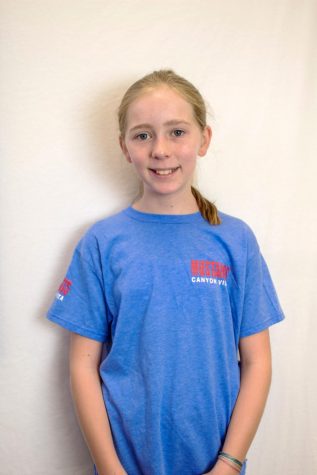 Hannah McDonough, Editor
Hannah McDonough is an eighth-grader here at Canyon Vista. This is her second year in newsmedia and last year, she received a silver medal in UIL for her...