Meet The Teacher: Mrs. Gonzalez
This year, sixth-grade students have a brand new teacher named Mrs. Gonzalez. I happened to have the pleasure of interviewing her for this article.
Here's the interview!
Q: How are you warming up to Canyon Vista?
A: I love it here! I love being around nature, and having the Canyon and all its forest out here makes me so happy! And the people here are so friendly!
Q: Ok, well what do you like most about it?
A: I think I'm gonna have to say, my students. They're very interesting people with very interesting backgrounds, and I love that.
Q: Are you married?
A: I am! His name is Will, we've been together for 23 years, and we have two children, a 20-year-old son in the Navy and a 17-year-old daughter at Leander High School.
Q: Did you teach anywhere else before Canyon Vista?
A: I did! I was a fourth-grade teacher for five years in Leander.
Q: How long have you been teaching?
A: Just five years! Before that, I was a substitute for a few years, and before that, I worked in a sort of after-school Mother's Day Out program, so I've been working with kids for quite a while.
Q: Any pets?
A: Yes, actually! Although not as many pets as I would like to have, I have two dogs, Donut and Coffee, two cats, Slenderman and Emma, nine chickens, and one beehive. But one of these days, I'm gonna have a donkey and an alpaca.
Q: Where did you go to school?
A: Leander High School. Funny story, I actually was in Round Rock ISD for a while at Pond Springs with Mrs. Arcaya!
Q: When did you decide to become a teacher?
A: Well, when I was in elementary school, we had this program where you could go and help out with other departments, and I helped out with the Pre-K and loved it. I used to play "School" with my stuffed animals in my garage, pulling my dad's work papers out of his trash can and saying, "These are my school papers." I was a stay-at-home mom for a while, doing different jobs, and then I went back to school when I was 34, graduated when I was 40, and got my first teaching job then.
Q: Did you have any jobs before teaching?
A: All of them. I worked at a pizza place, a publishing company, daycares, in retail, and even an animal shelter!
Q: What is your favorite color?
A: That's really tough. I guess it depends on my mood. So I'm gonna say the spectrum. Like, all of them.
Q: What is your favorite animal?
A: Oh wow, that's really tough… Bees are interesting, extremely interesting, alpacas are adorable, donkeys are adorable, I love my dogs and cats… Aaah! Mammals. Just mammals in general. I can't decide.
Q: What would you teach if you didn't teach 6th grade ELA?
I love History. History is my thing, like Texas History I love. I would love to teach Theater too, or maybe ESL…
Q: What is your favorite thing to do in your free time?
A: Go to my ranch. We have property up in Zephyr, and there's really not much there. There's a little cabin that we built, and I like to hang out in my cabin, and I like to go sit by the pond and listen to the frogs and the birds…
Q: Favorite music genre?
A: Either musicals or country. Or folk. Or classic rock. Again, depends on my mood, kinda like the colors.
And that concludes my interview with Mrs. Gonzalez, new sixth grade teacher. Welcome to the canyon! 
About the Writer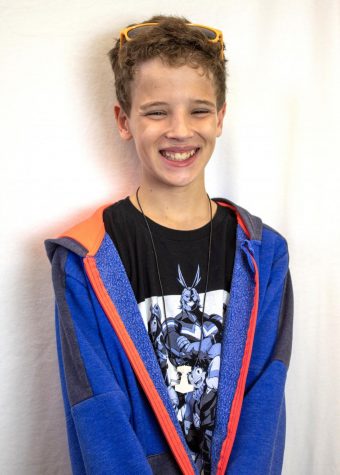 Joaquin Schere, Reporter
Joaquin Schere is not a reptilian invader in disguise. He is NOT cold-blooded, and will not eat your flesh. He lives in a castle made of clouds with the...