Superhero Social Kicks Off The Year
On Friday, Sept. 20, Canyon Vista had its first school social. Students came decked out in their best superhero outfits and spent the afternoon dancing with their friends. The lines to get in were past the bus canopy and everyone was excited. "It was a fun and exciting experience," Elizabeth Propes (6) said, "The music was lively and happy and everyone was having a good time." The music included common songs like YMCA and the Macarena, but there were many others. In the cafeteria, Meet The Robinsons was being played and popcorn was being served. Other concessions included pizza, candy, and soda. For sixth-graders, it was their first school dance, but for some returning seventh graders, it just wasn't as good. "I enjoyed dancing with my friends," Tayla Score (7) said, "But this dance was worse than others because the DJ only played certain music." There were a lot of people there and they were all super excited about the first dance of the year.
Here are some photos we took at the dance: 
About the Writer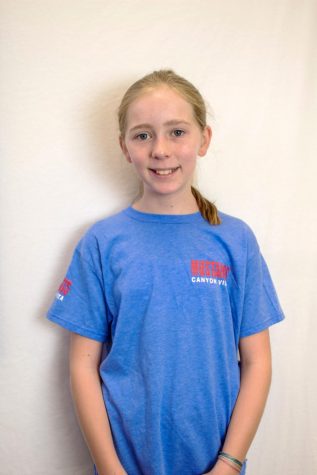 Hannah McDonough, Editor
Hannah McDonough is an eighth-grader here at Canyon Vista. This is her second year in newsmedia and last year, she received a silver medal in UIL for her...