The Cheerleader Experience
Cheerleaders work so hard every day to get there stunts and cheers down. They go to school at 6:15 am every day for practice and work super hard to juggle cheerleading and school work. Some of them also play sports like volleyball or football in or outside of school. They even do things like dance outside of school too. It is a lot of work to be a cheerleader; they have to attend most of the sporting events.
For the cheerleaders, going to all those practices and games is all worth it. On the plus side of being a cheerleader, you get into all the football and basketball games for free. They also get to hang out with their friends all the time at the football games and practices. The cheerleaders have gotten so much better throughout the year. They can now do stunts with their flyers and can do fun formats, and they look so good.
I asked a few cheerleaders about what they thought about cheerleading.
Samantha Sinitsky, flyer (7): "I'm a flyer, and I like to stunt and learn new cheers. I really like how we come together as a family and like how our stunts and cheers turn out."
Angelina Gellini, back spot (7): "Is kind of hard to do cheerleading and other things outside of school. But I love being a cheerleader because you are all part of a big family, and everyone's got your back."
Sara Bell, main base (7): "I like the relationship between all the cheerleaders and how we all know each other. I also love the stunts we get to do."
Loghan Smith, side base (7): "I like throwing people in the air and doing stunts. "
If you want to be a part of this cheerleading family. Join the cheer team, learn stunts, make new friends, and perform at the football and basketball games. Not to mention getting into the games for free.
About the Writer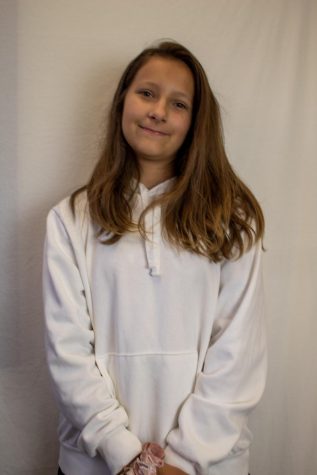 Mercy Forrister, Reporter
Mercy is a seventh-grader, a writer and a volleyball player. She lives with her three siblings and her parents, she also has six pets. Mercy would love...