Volunteer For A Cause: Giving Tuesday
On Dec. 3, 2019, Giving Tuesday will be launching a global day of giving. Communities around the world will be hosting events, charities, and more. It has turned into one of the biggest giving movements in the world. You can be a part of it, too. Here are the ways that you can give back:
The Mission
Giving Tuesday is a way for people come together over a common cause. The idea is that you can give within in your community. If everyone does that, then we can make a change. And how does this program reach all these people? We seem to communicate the most over social media, so they are trying to reach millions of people using it to their advantage. Help spread the word by using #GivingTuesday and by sharing the event with everyone you know.
How Can I Help?
Giving Tuesday is an event that lets you volunteer at any of the participating organizations. Of course, you do not have to do those exact ones, there are other ways to help, too. All you have to do is get involved on Dec. 3, 2019. Then, share photos and posts of it. You are not limited to one organization, you have a lot of choices. You do not have to pick the options given, you can volunteer anywhere, anytime. But on this day, the organization hopes for millions of people to come together over a common cause: Making the world a better place.
Why Should I Volunteer?
A lot of people volunteer, and you can, too. "Volunteering is a fun way to make a difference," Ava Dubroca (8) said. "I volunteer with the National Charity League (NCL) and with National Junior Honor Society (NJHS)."
According to HelpGuide, volunteering doesn't just help others, it can help you. Studies have shown that by helping others, it genuinely makes you happy. As humans, it is natural to give. Volunteering gives you something to take your mind off of when you are stressed or angry. Volunteering also has a very social aspect. By volunteering, you are getting involved in your community. You can meet new people and give your say in things. "By volunteering, you're helping the community and it's very fun. I volunteer through Generation Serve and the Hope Food Pantry," Shriya Kota (8) said.
So on Tuesday, December 3, you can make a difference in your community. Come on out and help, it doesn't take much to change something for the better.
About the Writer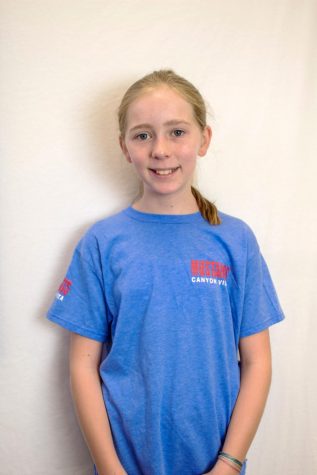 Hannah McDonough, Editor
Hannah McDonough is an eighth-grader here at Canyon Vista. This is her second year in newsmedia and last year, she received a silver medal in UIL for her...