Was It Worth The Scare? The Haunted House of Barrington Oaks
On Halloween night, people come to see a spooky haunted house, right here in the neighborhood. The owners live on Barrington Oaks, a street in the nearby community. For years, they've been putting on a show of haunted houses, pirate ships, and even ancient Egypt. They generally start building in August, as they extend off of their home, a lot of times using the garage as well.
They do this for a couple of reasons. Besides the fact that they are giving passerby an excellent show, they accept donations for Dell Children's Hospital. As you walk up, there is a box where you can leave donations. Then you walk into the vast attraction. They generally have a giant tub of candy for trick or treaters. Lines wrap around the block, and some people even drive in from other neighborhoods, so you do have to wait a bit. This year's theme was Jaws.
The Barrington house is so thoroughly detailed that you can barely see the actual house behind it. You can't miss it, with it's exquisite designs and meticulous work.
But was this year worth the scare? I'd say it was. You walk up in line and pass a photo op, open jaws that people can stand-in. At the entrance, some signs say Amity Island and No Swimming. The lawn is made to look like a beach. Then, as you go in, there is a fishing net display. You go a bit further, and there is a statue in the corner holding a fishing pole. But is it a statue? He jumps out as you walk past and admire the jellyfish hanging around you; then, you get candy from a big treasure chest. As you leave, you pass what looks like an aquarium tank/cage that has a skeleton diver being chased by a shark. I'd say it was one of their best years. For a couple of years, it wasn't scary enough, and others, it was a bit too frightening, but this was perfect. It was amazing how they put everything together.
But it's not just the Barrington house. Other houses on the street try to grab the attention of the vast crowds as they leave the haunted house. They play loud music, set up big displays (though not quite as big as the main attraction), and they set up dance parties. This section of the street has ultimately turned into the place to go on Halloween. Some people hang out here, even people from other neighborhoods. Kids generally get a lot of candy, and little kids love that.
Depending on your age, it is more or less scary. If a little kid walks through, they know not to jump out and scare them. But if an adult or teenager walks in, they might be a little scarier, jumping out at them, standing like a statue until the last minute, you get the idea. In this way, it is very family-friendly, and everyone can enjoy the scare.
So was this year worth the scare? Yes, it was pretty awesome. The whole section of the street was excellent this year. You should come for some fun, not far from here.
About the Writer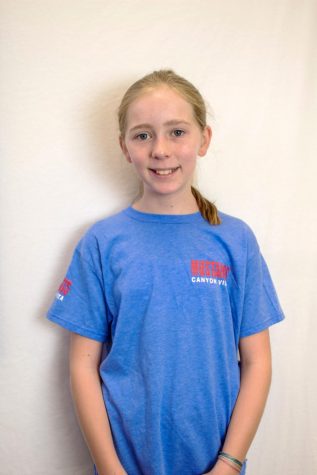 Hannah McDonough, Editor
Hannah McDonough is an eighth-grader here at Canyon Vista. This is her second year in newsmedia and last year, she received a silver medal in UIL for her...