Halloween Movies To Binge This Year
Nightmare Before Christmas
Jack Skellington, Halloweentown's worshiped Pumpkin King has become bored of the same old same old scare kids in the real world routine. When Jack stumbles into Christmas town all of the cheer, warm souls, and bright colors gets Jack a new purpose to life. He then plots to steal Christmas and take it under his control. Bu kidnapping Santa Claus and taking over his role. But soon Jack discovers that even the best most thought out plans can go awry. This claymation flick is spooky yet fun and quite musical as well. It gives you all of the Halloween vibes in a PG format. 
Hocus Pocus
After moving to Salem, Mass., teenager Max Dennison explores an abandoned house with his sister Dani and there new friend Allison. After ignoring the superstitious story Allison had told them, Max accidentally releases a coven of evil witches who were once the occupants of the house. With the help of a magical cat, the three of them must steal the witches book of spells to prevent them from becoming immortal. This is one of my personal favorite Halloween films. It stars Bette Midler who is an iconic Broadway and movie celebrity. It's also super funny, extravagant, very halloween-y.
Coraline
With a button eyed family in a second dimension, Coraline is all about claymation horror. Tim Burton did it again with a spooky story that can frighten us all. 
The Great Pumpkin Charlie Brown
Instead of being a full blown movie this is a 25 minute show exploring the world of The Peanuts. While Linus waits for the Great Pumpkin, the rest of the gang celebrates Halloween. As a family favorite you can enjoy this any friend or family member. It's not the most spooky show but it is certainly one worth watching with a cup of something sweet. 
Ghost Busters (1984)
This is a classic Halloween movie. A group of scientists lose their jobs at a university and decide to wage a battle with the supernatural. They come upon another dimension which will release evil spirits in the city. The ghost busters must now save New York from complete destruction.
Poltergeist (1982)
Weird things are brewing at the average California home. When ghosts start to communicate through the television, initially being kind and playful then turn into haunting and evil. When daughter Carol Ann goes missing this family will everything they can to save her. 
Monster Squad
Five kiddos find themselves up against Dracula, Frankenstein, the Gill Man, and the Mummy who come into town in hope of finding an amulet that posses magical powers.  
A Quiet Place
Mysterious monsters that hunt you if they hear the smallest footstep or quietest whisper. This family must live in the agony of complete silence in order to stay alive. But Evelyn and Lee are determined to do what ever it takes to protect their children while trying to find a way to fight back. This flick is an outstanding drama/thriller/horror. Most of it is spent with no words and sign language instead. With a few jump scares woven throughout this will be a great horror movie to watch with friends.
 Happy Death Day
It's your birthday! You start by having a normal day until you get murdered by a masked man(or woman). But instead of staying dead. It's your birthday! You start by having a normal, AHHHH. You're reliving the same day and every time you die you come back weaker and live the same day. How miserable! This is the plot line for Happy Death Day. It is not too scary but it is a fun one to watch at a sleepover or with a couple of friends. 
View Comments (1)
About the Contributor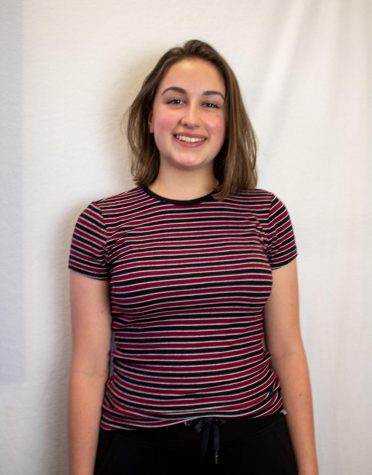 Jessie Van Den Berg, Editor
Jessie Van Den Berg is a current eighth grader and is in her second year of Newsmedia and Yearbook. Some of her biggest passions include writing and creating...