Basketball season is starting
The girl's first game was against Hernandez on November 14th. Make sure to come out and support our lady mustangs as they compete against other teams to put another district board up on the gym wall. The boy's games are on Wednesdays and Mondays, and their first game was also against Hernandez on November 20th. Go to the Canyon Vista website to find out when the other games are and who they are playing.
At Canyon Vista, we have many very athletic students. You would expect us to do as good as every year. "I think we can expect a few players on the team to not even to understand the game of basketball. We can also expect there to be many students who are amazing at basketball. They may have been playing it since they were little kids. We'll need a little bit of coaching, but I think we should try and get district once again this year. Try to get another board up in the gym." says Coach Neilson, the girl's 7th-grade coach. The players need to try their hardest to get towards their goal of winning the district. They'll need to practice hard and work on getting better to prove that Canyon Vista can once again stay in the lead.
The basketball team will play better with more support. Come out and watch the girl's and boy's basketball games. We need to start the season off strong. If you want to help us win, support our mustangs so they will play their best and beat the Hernandez Bulldogs and all the other teams they play.
Leave a Comment
About the Contributor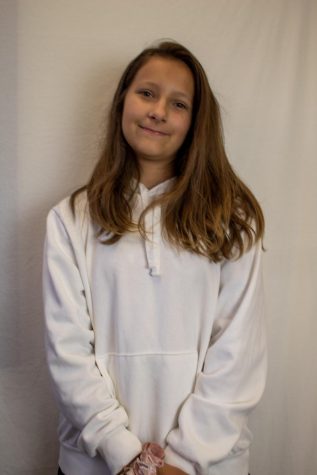 Mercy Forrister, Reporter
Mercy is a seventh-grader, a writer and a volleyball player. She lives with her three siblings and her parents, she also has six pets. Mercy would love...