7th Grade Boy Basketball Mustangs Crush Panthers 43-21
Recently, the seventh-grade boys' basketball teams faced off against the Ridgeview Panthers, and crushed them. The B-team game was a lot closer than the A-team game, but we still won!
The B-team game started off scarily. Both teams were neck and neck, always within two points of each other, and most of the time, Ridgeview was ahead. Eventually, however, Ridgeview messed up a bit, and we were able to get several baskets in one minute. We kept our lead, throughout the rest of the game. Our B-team worked extremely hard and won the game. "It was harder the beginning, but got easier at the end," said Peter Hewett (7). Ridgeview was a bit angry about their loss, but there weren't any fights. In the end, the Mustangs won, 35 to 28.
The A-team game was much more interesting and all the more devastating for the opposing team. We did win this match as well, but it was a large back and forth for a while, and it was pretty close for the first quarter. Then, in the second quarter, we pulled ahead with about a ten-point lead and did our best to maintain that. The third quarter was a bit of a back and forth match as well, and we got several more points. In the fourth quarter, we got a lot of points, and eventually, we just stalled. The A-team started stalling at around three to four minutes left. We just kept stalling, and every minute or so, the Panthers would grab the ball and try to make a run for it, but our defense shut them down. We just stalled to the end, a boring finish, but a safe one. We won, by a MASSIVE amount, 43 to 21.
Both teams played well and worked hard, but in the end, Mustangs came out on top. We played better, we worked harder, and we won.
Leave a Comment
About the Contributor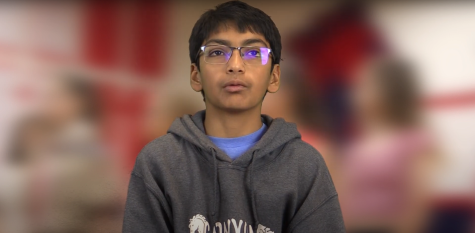 Akaash Reddy, Producer
Akaash loves working on videos!