Science Fair
On Thursday, Feb. 20, students went to the Palmer Events Center to present their science fair projects. They competed in the Austin Energy Regional Science Festival, and many students placed or won awards. Mr. Austin Boriack, eighth grade science teacher, took students to the event.
"It's always fun to see all of the projects and experiments that are being conducted with schools around the Austin area. It gives me so much hope that this generation is going to do great things," Mr. Boriack said.
To enter in the science fair, students had to come up with a research idea, conduct an experiment, analyze the results, and present the project to a committee of judges.
"We all put a lot of effort into making the project,"  Anuva Fulzele (8) said, "I think that the process of of making the project is what really counts."
There were different categories that students could place in. Some of them included Biomedical & Health Sciences, Earth & Environmental Sciences, Materials Science, Computer Science: Systems Software, and Energy: Traditional/Alternative/Efficiency. They could also win different awards such as Broadcom Masters SSP Award, U.S. Navy and Marine Corps Naval Science Award, Society of Women Engineers Award, and Society of Women Engineers Award. Check out the gallery below to see who won and placed.
Students were able to learn about how to present and make their projects better. "I learned what you can do to relax before presenting to make it seem more natural," Vaishnuv Thiagarajan (8) said.
Students who placed in the top three are Vibha Harsave (6), Suchir Kumar (7), Naithruv Kashyap (7), Tanvi Reddy (7), and Vaishnuv Thiagarajan (8). They will be advancing to the state competition at Texas A&M University at College station on March 7 and 8.
Three of the students listed above placed first in their categories: Vibha Harsave (6), Suchir Kumar (7), and Naithruv Kashyap (7).
"The event is very rewarding as it allows students to present and talk about their projects, network with other students, and learn about other research that is being conducted to stimulate additional ideas for research and experiments in the future," Mr. Boriack said.
`
About the Writer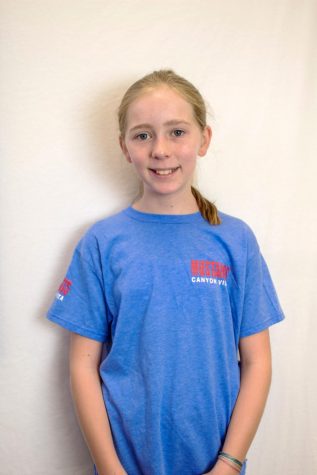 Hannah McDonough, Editor
Hannah McDonough is an eighth-grader here at Canyon Vista. This is her second year in newsmedia and last year, she received a silver medal in UIL for her...