Visit Big Bend For Your Next Vacation!
Big Bend National Park is a beautiful place. It is far, about a seven hour drive, but it's worth it. Whether you're into camping or you want to stay in a hotel, this is a place for you! The park has a lot to offer. With mountains, a river, canyons, and desert, it is a true biosphere filled with all sorts of life. It is a truly amazing place, and I highly recommend you visit.
Rio Grande
The general area around the Rio Grande is unique in it's own way. I stayed in the Rio Grande Village campgrounds, and you could see Mexico from the campgrounds.  At night, sometimes you can hear the coyotes howling in the distance. There is a food locker at each site where you must put food when you are away because it is common for wildlife such as javelinas to come in search of food. Here are a few must-sees around this general area.
Boquillas Crossing
At Boquillas Crossing, you can go to Boquillas, Mexico. You go on a ferry ride across the river, and then you can walk, ride a burro (a donkey), or ride a horse about a mile into Mexico. You reach a town called Boquillas, it's so small you could walk across the entire town in about fifteen minutes. There are two restaurants owned by the same family, so I suggest going around lunch time. US currency is accepted in this town. Many citizens of the town sell handmade trinkets that make good souvenirs. You can only visit Wednesdays through Sundays. To get back in the US, you either need a passport, or if you're under 16, an original or certified copy of a birth certificate. The crossing is about a mile away from the Rio Grande Village.
Nature Trail
This is a really quick trail, perfect for watching the sunset. It starts in the Rio Grande Village, and has a boardwalk that goes over a creek. The whole trail has a great view of Big Bend and Mexico. Along the trail and many others near the river, you come across various handmade items for sale. These are similar to the ones you find in Boquillas, Mexico because Mexican families sell them. These are perfect for souvenirs and they are inexpensive. You just put your money in the container next to the crafts and pick one.
Boquillas Canyon
This trail is longer than the nature trail, but it isn't too long. The view here is magnificent, and it was one of my favorite trails. The handmade crafts are also sold here, and you can walk right up to the river and even wade into it. You reach a little beach along the trail where you can sit and relax before heading back. On the Mexican side of the river is a tall cliff. The scenery here is breathtaking and gorgeous. I think this trail is one of the must sees if you go to the Rio Grande Village area.
Hot Springs
The hot springs are not far from the Rio Grande campgrounds. It's a five minute or less hike to get to the hot spring from the parking lot and a little longer to get to a rocky shore along the river. On your way in, there are some old buildings, including an old bath house, and cool rock formations. The rock formations had petroglyphs and pictographs, basically ancient drawings on the rocks. The road to get there is unpaved once it branches off from the main road, and at some points it is very narrow. The hot spring is kind of small, but still fun. You can get in, or walk around into the river. Either way, they are both amazing, so bring your swimsuits when going to Big Bend.
Chisos Mountains
The Chisos Mountains are completely different and beautiful in their own way. You can tell when you are entering them because the landscape changes so much. The Chisos Basin is where the restaurant, lodge, and a bigger gift shop are. It is a hub of activity, but once you're on the trails, it all disappears. Here are some things to see and do in the Chisos Mountains.
Lost Mine Trail
This trail is beautiful. It is kind of long, but the view is worth it. You hike up a mountain, but there are switchbacks (not a straight hike up, trail zig zags to the top) along the trail, so it isn't as hard as you might think. I cannot even describe how beautiful and enchanting the view is! If you're up for a long hike and have plenty of water, then I highly recommend this trail.
The Window
Whether you go on the Window Trail or you just go to the Window Overlook, the view is magnificent. While in the Chisos Basin, the mountains are all around you, and the Window is a gap in the mountains that allows you to pretty much look as far as the eye can see. Personally, I have not done the Window Trail, so I do not know the difficulty, but I can guarantee one of the best views I saw on this trip is the overlook. On several different nearby trails, you can see glimpses of the window.
The Loop Trail
If you don't want too long of a hike, just a couple of hours at most, this is the hike for you. It's not too rough and the view is amazing. This trail goes through a lot of forest and has several clearings allowing you to see the breathtaking mountain views. It took me about an hour and a half to hike this trail. This trail is a good one if you don't have time to go on some of the longer ones like the Lost Mine or Window Trail or you want something a little easier.
These were the areas of the park that I mainly saw. You can visit the National Park Service Website for more information  about other areas of the park such as Santa Elena Canyon and Glenn Spring.
Other Things to See
If you're already in the area, why not stop by some of the sights near the park? Here are some of the things to see within a few hours of Big Bend.
Terlingua
Terlingua is a ghost town near Big Bend. It used to be a mining town, but has turned into a ghost town where a lot of tourists visit. There are all kinds of things you can see and do such as nearby trails, horseback riding, art galleries, and you get a taste of some of the desert culture.
Fort Davis 
Fort Davis is also not too far from Bing Bend and has some cool attractions. One big one is the actual fort called Fort Davis. It is a national historic site and it used to defend pioneers in West Texas. Another attraction is the McDonald Observatory. It is best to get a star party reservation for a stargazing tour.
Davis Mountains State Park
This park makes a good day trip if you're staying in Alpine. It is home to a unique landscape and interesting wildlife. There is a small fee to get in, but then you get to explore the beauty of the Davis Mountains.
Gage Hotel 
This is a historic hotel in Marathon that is a great stop on the way to Big Bend. You have to drive through Marathon to get to Big Bend anyways, so it's not really off track. This hotel was opened by Alfred Gage, who was famous for his large ranching operation in the area. The hotel is very pretty, and if you're not into camping, it's a great place to stay that's not too far from Big Bend.
If you're looking for a new adventure, then visit Big Bend! It is beautiful and unique, and could be the next place you explore.
Here are some photos from my trip: 
About the Writer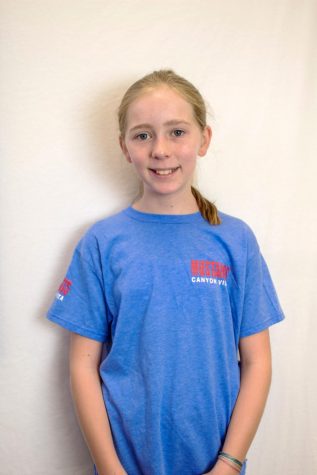 Hannah McDonough, Editor
Hannah McDonough is an eighth-grader here at Canyon Vista. This is her second year in newsmedia and last year, she received a silver medal in UIL for her...