New Canyon Vista Spirit Wear, My Opinion
My opinion on the 2020-2021 Canyon Vista spirit wear.
Canyon Vista has released brand new spirit wear to celebrate our new school year. Including, hoodies, masks, sweatshirts, and tee-shirts. I have a full review of the clothing, including, comfort, style, and all-around likeability on an A-F scale. To be 100 percent fair, I made sure to wear all of them before writing this to give my best opinion.
THE HOODIE: The hoodie is by far my favorite item from the collection and the one I wear the most. It is made out of cotton, so it is extremely comfortable, I'll even wear it outside in the heat, that is how comfortable it is. The design is simple but very nice. It is a nice simple design with big letters that say the name of the school and the year it was founded with two red and white stripes. Personally, I love the simplicity of it, and I would wear it anywhere, it is by far my favorite item of clothing. It would go on the A list of the clothing.
THE TEE-SHIRT: The tee-shirt was a nice cotton piece of clothing, it is great for just lounging around the house, going outside, and even exercising. It is really nice and has a nice simple design on the front, and an eye-popping logo on the back. It is really comfortable, and stylish, but I wish it had more of an X-factor. All in all, it is a good piece of clothing, B+.
THE SWEATER: The sweater has the same design, as the shirt, just with long sleeves. It is going to be great for the upcoming months of fall, its comfortable, warm, and an all-around great piece of clothing, not much else to say, B+.
THE MASK: I know not a lot of people will probably order the masks because masks are not everyone's favorite, but I was able to, and I have to say, it is a great mask. It is simple, comfortable, and represents Canyon Vista really well. You can take it anywhere, it has a classic navy blue color, and has our best looking Canyon Vista logo available. By far my favorite mask I have at my house. It goes with the hoodie on my A tier.
Overall the quality of this year's spirit wear is great! A lot better than the bright blue rainbow spirit wear from last year. The hoodie is great and lives up to last year's hoodie. I recommend buying it, it supports our school, its comfortable, and fashionable.
Leave a Comment
About the Contributor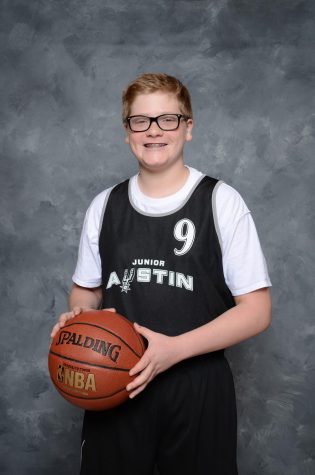 Sawyer Grimaldi, Editor
Sawyer Grimaldi loves to play sports, read, and have fun with his friends! School is very important to him, and journalism is very important to him and...