In Memory of Ruth Bader Ginsburg
Ruth Bader Ginsburg was a trailblazer for women's rights.
Justice Ruth Bader Ginsburg was a feminist icon. She fought passionately for gender equality and to counter discrimination against women. Ginsberg was the first Jewish woman to serve on the Supreme Court and only the second woman. Her nickname was "The Notorious RBG" after the rapper, "The Notorious BIG".
Joan Ruth Bader was born on March 15, 1933 in Brooklyn.  She experienced many tragic losses of loved ones. Her sister Marilyn died at the age of 6 from meningitis when Ruth was only a baby. Her mother died one day before Ruth's graduation from Madison High School and was a great inspiration throughout her life. Ruth said, "My mother told me to be a lady. And for her, that meant be your own person, be independent."
Ginsburg earned a scholarship to go to Cornell University and graduated top of her class. While at Cornell she fell in love with Martin Ginsburg and married him in 1954. The couple had their daughter, Jane C. Ginsburg, in 1955. James, her second son, was born 10 years later. Martin fell sick at Cornell with cancer, and Ruth helped Martin overcome his illness while pursuing her studies at the same time. Ginsburg was also at Harvard Law for two years before she transferred to Columbia. At Harvard she was one of one of only nine women in a 500 person class. When she was at Columbia, she graduated top of her class once again.
Although Ginsberg was so brilliant, nobody wanted to hire her. "I had three strikes against me. One, I was Jewish, two I was a woman, but the killer was I was a mother of a 4 year old," Ginsburg told CBS Sunday Morning. She was too ahead of her time for the predominantly male law firms. It was really hard for her to find a job due to the discrimination. Ruth studied a number of different law cases about gender discrimination. She took 6 landmark cases to the Supreme Court and successfully won 5 of them. Many women were inspired by RBG's court cases and took to the streets to protest for equal rights.
President Bill Clinton appointed Ruth Bader Ginsburg to the Supreme Court in 1993. "Ruth Bader Ginsburg does not need a seat on the Supreme Court to earn her place in the American history books. She has already done that," said Bill Clinton Ruth Bader Ginsburg was the second female in the Supreme Court after Sandra O'Connor. Justice RBG continued to advocate for women's' rights.
When her husband, Martin died in 2010, Ginsburg showed up the day after his death to the bench. She persisted to continue with her work, and involved herself with the Supreme Court. She  didn't stop working, even when she had health issues. She had to undergo chemotherapy for pancreatic cancer and had to have surgery for colon cancer.
Ruth Bader Ginsburg died on September 18, 2020 due to complications with pancreatic cancer. She was 87 years old. Justice Ginsburg wasn't only a Justice in the Supreme Court. She was a fighter for women's rights, a mom, and even a pop culture icon.
Justice Ruth Bader Ginsburg's legacy still lives on today.
Leave a Comment
About the Contributor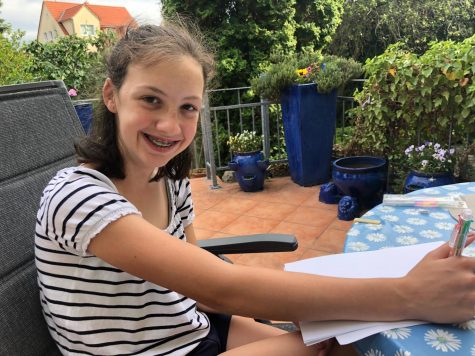 Lena Boas, Editor
Lena Boas loves to play soccer and run track. She enjoys traveling to other countries and learning about different cultures. She also plays piano and is...