Trends in Social Isolation
We've done sourdough. We've done tie dye. We've done Animal Crossing. Why is this happening? What's coming next?
Humans—especially younger humans—are confusing. Their patterns, their mindsets, their likes and dislikes. But never have they been as confusing as they are about trends while we're all self-isolated due to COVID-19. Things fall in style faster than they drop out of it, creating a storm of trends, fads, and short-lived fashions. What does this look like? Why are people doing this? And is it possible to guess what's next?
What are people doing?
The first trend that pent-up people dove straight into was the dalgona coffee trend. Based off a Korean candy, this trend consisted of adding together instant coffee, water, and sugar and beating it 'a thousand times'. Everyone was trying it, from TikTok stars to celebrities. 
However, on March 20th, Animal Crossing: New Horizons was released, shooting it to the top of all leaderboards—Nintendo sales and the quarantine trend-list. The game was a sort of escape for all those that rrapped at home, and consisted of the player developing a tropical island populated by adorable animal characters. Players can craft, create designs, and invite others to social gatherings on their island.
Trends from there ranged from cultivating sourdough starters and making banana bread to 2-week ab shreds to Among Us, a space mystery mobile game. People have done DIY tie dye and even cut their hair at home.
Why are people doing this?
Why are people leaping from fad to fad so quickly and firmly? The answer could lie in what each trend represents. Over the six-month period in quarantine, people have changed in their outlook on life and COVID-19. At the start of quarantine, with dalgona coffee, none of us believed this would last long and were determined to take up time-consuming and delicious pastimes. However, by the end of March, we were all needing a tranquil escape from the bleak possibility that lockdown could last months, and that came in the form of Nintendo's most recent hit game.
As May drew, we searched for ways to be productive and make the most of this time at home, looking for comfort in bread and self-health in home workout videos. When quarantine began to stretch on, people got antsy, bored, and impulsive. We took to tie dying our tee shirts, shoes, and bags, and chopping off our own hair at home. And as fall begins, maybe people are looking for normalcy and community, turning to the sort of house party games that drew people together for occasions of socializing and fun games.
What's next?
What's the next thing the population will turn to as a respite from the lockdown and social distancing? Will we begin to nurture new life by gardening? Will the world turn to oil painting? Or will woodworking become the Next Big Thing? It would take a fortune teller to predict what's coming. But we do know that whatever it is will take the world by storm, dominating social media pages and local news shows, inciting a storm of memes and TikToks, just like its predecessors that came before it.
Leave a Comment
About the Contributor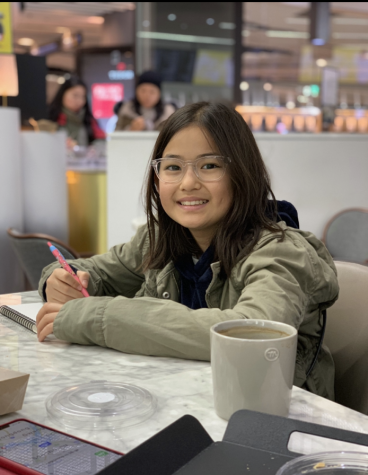 Sabrina Kim, Reporter
Sabrina Kim loves to write, draw, knit, and act, among many other things. She's got a stack of books a mile high and not enough time in the day to read...