Mole Music and The Very Hungry Little Caterpillar
CVMS theatre and orchestra students performed an interactive show for LME students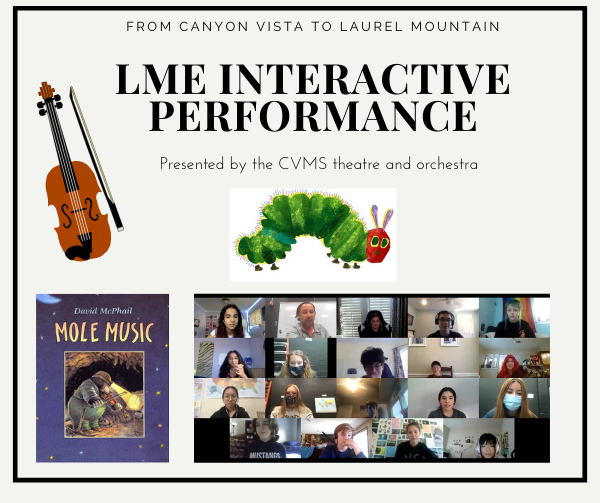 In honor of storybook character week, multiple elective classes put together and performed great interactive activities for the elementary students of Laurel Mountain Elementary (LME). Mr. Vigil's 8th grade classes performed a play of The Very Hungry Little Caterpillar for LME students. Mr. Whatley, the orchestra teacher from CVMS also organized an interactive Mole Music read along.
Mrs. Marvel, the Laurel Mountain principal, approached both the fine arts teachers to come up with a creative performance that concerned literary characters for LME Storybook Character Week. She thought that this would be a great way for LME students to get involved in the Canyon Vista elective community.
Mole Music
Mr. Whatley said, "In brainstorming musical storybook characters, I immediately thought of Mole from Mole Music by David McPhail, which is a favorite of mine to read to my own children at home. It's a great book that has music written into the pictures. It just seemed like it would be the perfect way to showcase string instruments and to participate in Storybook Character Week at the same time."
The book Mole Music is read aloud during the interactive read along. The story is about a mole that learns how to play a violin. When he finally buys the violin, he practices every day in his den. At first, he can only play a few squeaky notes. Then, he can play a whole scale. The mole progresses in his violin music and eventually he can play gorgeous and complex songs. Whenever mole plays, he sparks joy for the animals and plants above his den.
Every time the book mentions music, clips of the orchestra flash on the screen, and you can hear the music that coordinates with the book.  Mr. Whatley plays the music parts that the mole plays in the book on his violin.
One 4th grader from LME said, "I was inspired by the music of the CVMS middle school orchestra and teacher. The story was expressed with the violin's music with the feelings of the mole through lullabies. I would recommend the book and music to people who are inspired by music and want to try out a new instrument. The story reminded me that you should never give up on trying up and that you should try something new. Like in the story, mole wasn't very good at first, but he practiced long and became a good violin player and learned to play beautiful songs. In the story you could see that the acorn started in a little tiny acorn and grew into a big oak tree whenever mole played his music. If you want to try something new you just need to practice hard until you get better."
The Hungry Little Caterpillar
The 8th grade theatre classes each got to select a story they wanted to perform. For example, Mr. Vigil's 8th period chose to do a play from the book the Hungry Little Caterpillar by Eric Carle. The video started off with the class introducing what they liked about theatre. The class then showed the LME students what kind of games they would practice and play in theatre. In the story, the hungry little caterpillar eats a lot of different foods. This was shown by using a number of different props. For example, there were squishies, stuffed animals, and cardboard cutouts to symbolize the different foods from the play. When one item was mentioned, an actor would hold up the food and say their line to coordinate with the book.
Mr. Vigil explained to his class, "This is your chance to do something cool for kids; to do something for them that might not have happened for you. Think of how much they will look up to you. You have a chance to be a great role model for someone." He said that his students really liked that idea.
Both of the teachers were enthusiastic about including schools other than LME. They also said that they would love to participate in further programs with other feeder schools like Spicewood and Caraway Elementary.
Click HERE to view the Theatre Hungry Little Caterpillar performance
Click HERE to view the interactive Mole Music read along
Leave a Comment
About the Contributor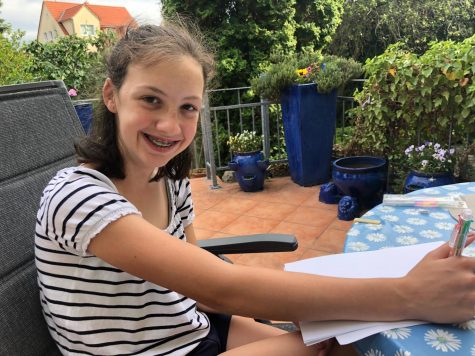 Lena Boas, Editor
Lena Boas loves to play soccer and run track. She enjoys traveling to other countries and learning about different cultures. She also plays piano and is...