How a 22-Year Old Harvard Grad Captivated a Nation
Amanda Gorman's performance of her poem, 'The Hill We Climb', grabbed all those who tuned in to watch Wednesday's presidential inauguration.
The inauguration of Joseph R. Biden and Kamala D. Harris was monumental. People celebrated nationwide the first day of a new administration–a new era, even. Families from coast to coast were toasting the country's first female, first Black, and first South Asian Vice President. And everyone–truly, everyone–was stunned by a brilliant inauguration poet and the first winner of the National Youth Poet Laureate, Amanda Gorman.
Her poem, a six-minute performance entitled 'The Hill We Climb' was one of the standout performances of the day. The recent graduate of Harvard spoke with such poise and passion that even some of the world's most esteemed reporters were starstruck. But how did this young poet–likened often to Maya Angelou–come to be the shining star of a day that will be fondly remembered for years to come?
Gorman's bold style struck Dr. Jill Biden, First Lady of the United States and dedicated teacher first. At a reading at the Library of Congress, Dr. Biden was an early image of the face of America only months later. Amazed, shocked, and more than a little intrigued. Late 2020, Gorman received word that she was selected to write and read a poem for the Inauguration, following in the footsteps of renowned poets such as Robert Frost.
In an interview with CNN's Anderson Cooper, the young poet recounts her inspirations throughout the writing process. She calls on memories of learning to overcome a speech impediment with the Hamilton soundtrack, and how Lin Manuel Miranda's transformative lyrics influenced her rousing poem. She reflected on the research she did on past Inauguration Day poets.
She also mentioned how much of a role the events of January 6th had in her process. She would read tweets and captions from that day, saving the powerful phrases and words to add to her poem. When her poem had achieved its finished status, she rehearsed it until it was no longer a problem to recite it–not by rote, but by heart.
It was a lot of work. Composing a six-minute ballad to America past, present, and future to read in front of the most powerful politicians and famed celebrities isn't easy. But the research and the hours and the painstaking meticulousness with which Gorman crafted the poem paid off. Because, for 48 hours, a broken nation has been singing the praises of a "skinny Black girl, descended from slaves". A sign of all the change and vivacity to come.
About the Writer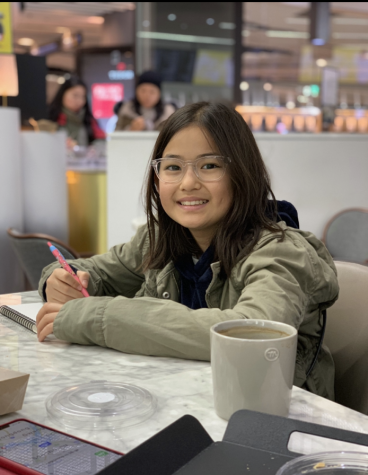 Sabrina Kim, Reporter
Sabrina Kim loves to write, draw, knit, and act, among many other things. She's got a stack of books a mile high and not enough time in the day to read...