The 63rd Grammys
Over spring break, a partly-virtual, very distanced Grammy's took place. Here are the worst snubs, best records, and all the shocking moments.
Each year, like clockwork, award season comes around. We're treated with red carpet rundowns, slightly stilted–although sentimental–speeches, and star-studded presentations. Even during the–arguably–worst of times, people will still come together to put together flashy shows of recognition for the most talented of the world's celebrities. Most recently, the Grammys have awarded their revered statuettes to the artists who put out their most impressive albums, songs, and performances this year.
This Grammys show became infamous before it even aired, with some of the biggest names in the industry calling out the Recording Academy for another year of Western-centric and conservative nominations–including stars like the Weeknd and Halsey. However, for all the amazing artists that didn't get the nominations they deserved, hardworking artists did get recognized. Artists like Taylor Swift got nominations recognizing her incredible talent and work for putting out not one, but two albums in the past crazy year.
In such an unprecedented time, it only serves that incredible artists would be smashing precedents in the music industry as well. BTS' nomination for Best Pop Duo/Group Performance made them the first Korean artist ever nominated for a Grammy. Beyoncé's double Record of the Year nominations tied her for first place in that count, and her fifth song of the year nomination put Taylor Swift as the only female songwriter to do so.
No awards show would be an awards show without some moments that take everyone's breath away–for better or for worse. The standout moments of the 63rd Grammys were by far the performances–the show was jam-packed with star-studded performances that went all out. The Black Pumas sang a soulful rendition of their song Colors, Billie Eilish gave a heartfelt performance atop a half-sunken car, and Harry Styles performed Watermelon Sugar as splashily as ever–all in the opening moments of the show. Among the huge amounts of performers, hit songs like Megan Thee Stallion's "Savage", Taylor Swift's cozy mashup of "cardigan", "august", and "willow", "Dynamite" by record-breaking nominees BTS, "Say So" by Doja Cat, and "WAP" by Cardi B and Megan Thee Stallion all stood out among the performances of the night.
The Grammys have never been without their problems, but these awards shows–no matter how full of camp and pageantry they are–always give us something to look forward to and talk about, something to break up the monotony of the days now. So, each year, we will continue to tune in to red carpets, colorful performances, and wait for results with eagerly bated breath.
About the Writer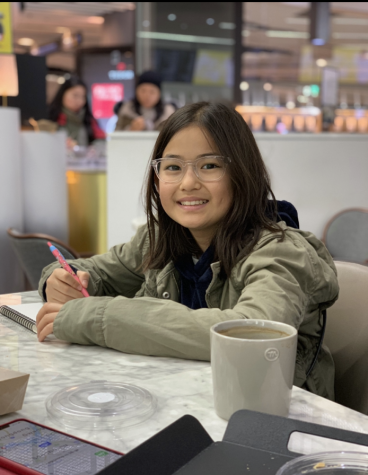 Sabrina Kim, Reporter
Sabrina Kim loves to write, draw, knit, and act, among many other things. She's got a stack of books a mile high and not enough time in the day to read...