Voluntary Isolation for 40 Days in a Cave
15 French volunteers recently participated in a cave isolation experiment for science
No daylight, no outside communication, and 50 degrees fahrenheit everyday for 40 days. Does this sound crazy to you? Well, this was the reality for 15 French volunteers who stayed in the Lombrives cave in Ariege, South-West France. This project was called Deep Time, and was created by the Human Adaptation Institute which funded this $1.5 million project in hopes of understanding how our bodies react to drastic living conditions and environments.
The idea of the experiment was to understand how sleep cycles and body clocks react to being in a cave or isolated space for a prolonged period of time. Before and after the participants went into the cave, their brain activity was closely monitored to see how their brains would react to this new and sudden change. This cave expedition was no hotel stay however, because participants had to generate their own electricity by riding a bike, and they had to obtain their drinking water from a well 146 feet (45 meters) beneath the earth's surface. The prolonged humidity was at 100% almost the entire time.
The participants were 7 women and 8 men ranging from 27 to 50 years of age. One of the main things that researchers took away from the project is that sunlight is a crucial factor in keeping our internal clocks in check. Each volunteer had a different sense of time when they were in the cave. Some said they had only been in the cave for 23 days or 30 days, when they had actually been living in the cave for 40 days. The participants had to decide when to wake up, make breakfast, do their daily tasks, or go to sleep. This cave experiment could be a key factor in perfecting the ways that people live in isolation such as in submarines, going to outer space, or working in mines.
Marina Lançon speaks about her time living in the cave,  "It was like pressing pause…" Lançon enjoyed the time in the cave and wouldn't have minded staying a little longer, but was happy to see sunlight and nature again. Other people from the experiment did not share her excitement. Johan Francois, a math teacher and sailing instructor said that in order to stay fit, he ran 10,000-metre circles around the cave and had "visceral urges" to leave the cave. After 40 days, when the participants emerged from the cave, they had to wear special sunglasses to protect their eyes from the sunlight they had not seen in almost 6 weeks.
Featured image by Bruno Mazodier
Leave a Comment
About the Contributor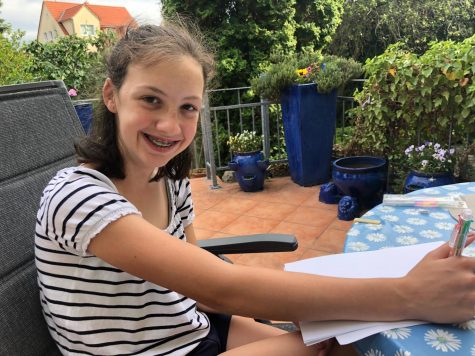 Lena Boas, Editor
Lena Boas loves to play soccer and run track. She enjoys traveling to other countries and learning about different cultures. She also plays piano and is...