BTS Drops New Single Before BBMAs
Record-demolishing boy band BTS released another internet-breaking single on Friday, May 21st. "Butter" marks the beginning of a new era of BTS's international stardom—but what exactly makes this such a monumental song?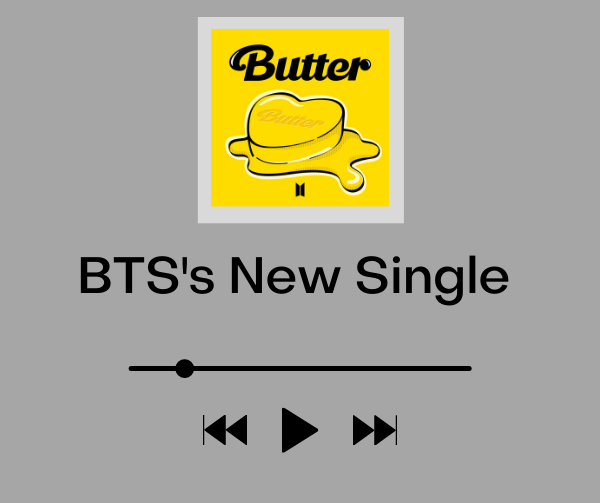 South Korea's chart-topping, silk-voiced, and pastel-haired musical stars did it again. BTS, short for Bangtan Sonyeondan (Bulletproof Boy Scouts), released a smooth-talking, summery single called "Butter" at 12:00 ET on May 21st. As was expected of the enthusiastic fanbase, their all-English number smashed records in mere hours. Nearly four million people tuned into the live premiere, and the music video collected 21 million views in only an hour on YouTube. At the time of writing, the video has surpassed 150 million views.
The song itself is a vaguely retro, charismatic, sunny-day song packed with blink-and-you-miss-it pop culture references and stylistic nods to pop greats like Bruno Mars. It's led by the band's vocals line, or the group of members who do the most singing. Youngest member and talented singer Jeon Jungkook as well as dancer and rapper Jung Hoseok have starring roles in the music video, but the song is as much a 7-member collaboration as ever.
A suave, black-and-white, film noir filter covers the first few verses, before it explodes into the hyperactive color and fervor BTS is known for. Though it might not be as jaw-droppingly shocking or touching as past songs like ON or Life Goes On, Butter has both the musical and stylistic chops to stand on its own two feet.
And, not only is the single a triumph on its own, it also marks the beginning of a new era.
K-Pop is a genre with practically a dictionary's worth of terminology for the life cycle of a pop group. One such step is the 'comeback'. Groups release music in batches, and a comeback is a highly-anticipated release that marks the beginning of one. For instance, BTS's 2020 summer smash "Dynamite" was a comeback song that came with their BE album on its coattails.
And, for BTS, "highly-anticipated" is an understatement. The band and their producers at Bighit have been teasing the release of "Butter" for weeks. From the beginning, the band released an hour-long video of a slab of animated butter slowly melting, building up to a seconds-long clip giving the details of the single.
This video got seventeen million views.
There was a lot riding on this song to begin with. For foreigners or those who simply haven't tuned into the phenomenon of BTS, it's a return to the flashy, big-name pop of Dynamite. An all-English song gets played more on radio stations, allowing it to climb music charts and pose a serious competitor in the run for the Grammys.
For ARMYs, BTS's dedicated and enthusiastic fanbase, this song is another shot. Many were disappointed by Dynamite's lack of the soulful, personal lyrics and moving, pensive music that make BTS's music so different from their genre. To ARMYs, who often expect the introspective lyricism of Black Swan or the cloud-like composition of Spring Day, Dynamite didn't fully deliver. Butter offers the septet a chance to meet in the middle—write a song that appeals to both the uninitiated and stay true the loyal fanbase.
And, as it seems so far, the song has not disappointed. The song's premiere got early attention worldwide, and streaming numbers across platforms were excitingly indicative of a potential chart storm. For ARMYs, the aural stylization and playful, flirty lyrics seem to fill the gap in Dynamite's generically colorful identity.
So, with bated breath, the world anticipates how this new, highly anticipated summer single will affect BTS's already celestial career. As a premonition of what's to come in this new "Butter era", a glimpse into the further records the band has yet to break, and a flashy love letter to their fans and friends encased in a musical wrapping you can't help but nod your head to, Butter is the kind of perfect storm of feel-good music we need.
Photo Credits: Hybe Labels
Leave a Comment
About the Contributor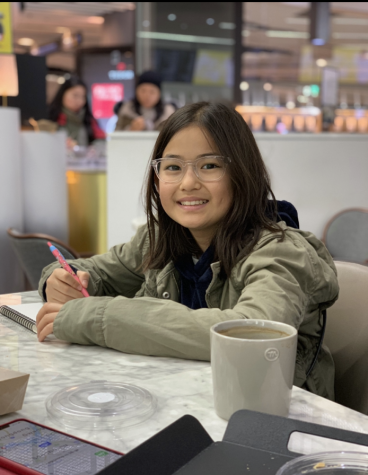 Sabrina Kim, Reporter
Sabrina Kim loves to write, draw, knit, and act, among many other things. She's got a stack of books a mile high and not enough time in the day to read...