Meet Ms.Kuttanna, Our 6th Grade ELA Teacher!
Ms.Kuttanna is a 6th grade ELA teacher
Here is my interview with her.
1. What kind of schools have you been to in RoundRock ISD except for Canyon Vista?
– I taught at Grisham Middle School for 2 years. When I was there, I taught Math Intervention to 6th, 7th, and 8th-grade students one year, and the next year I taught 7th-grade ELA. Other than those two years, the rest of my teaching career has been at Canyon Vista.
2. Is there a reason why you chose 6th grade ELA this year?
– I seem to end up doing something different each year, and I like the fact that I get to experience teaching different grades and different subjects. After teaching 7th and 8th grade ELA I wanted to work with 6th-grade students, so I chose to teach 6th grade ELA this year.
3. Did you teach in any other districts before you started teaching in RoundRock ISD?
– I taught ESL for a couple of years a long time ago in India, but in the US I have only taught at RRISD.
4. Do you think working with pencils and paper is better or with computers better, and why?
– I think working on computers and on paper have their own pros and cons, and I believe that everyone should do a bit of both. Computers obviously make life easier for students and teachers as there is no lost work, no need to worry about handwriting, and programs like Grammarly can help with spelling and grammar. Computers also allow for students to work at their own pace, so they help with differentiation in instruction. Paper and pencil on the other hand allow for a lot of creativity and for thoughts to flow without worrying about spelling, punctuation, and grammar when students write in their journals. So, as I mentioned earlier, everyone should do a bit of both.
5. What is your favorite subject and grade you taught so far, and why?
– I have loved teaching every grade and every subject. Every grade level is unique in its own way – as are the interactions with the students in that grade. I have worked with 8th-grade the longest, so I have to admit that I do have soft spot for 8th-grade.
6. Are you going to teach 6th grade ELA from now on?
– Teaching 6th-grade has been really fun and rewarding, so I do hope to continue teaching 6th-grade ELA next year too .
Leave a Comment
About the Contributor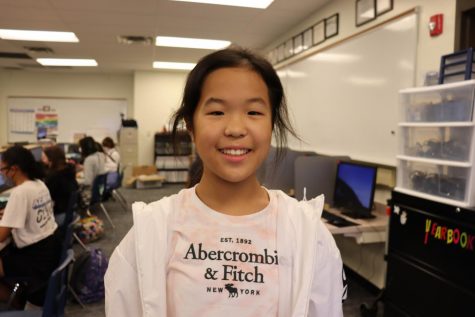 Jasmine Choi, Reporter
I'm from Korea,and I like to do lego and read.I'm going to be an announcer when I grow up!!