Interview With Ms. Chase
Ms. Chase is a sixth grade ELA teacher, and new to our CVMS family. I sat down with her, and asked her a couple questions to help get to know her!
What made you want to become a teacher?-

"My first job was tutoring kids, and I knew I loved teaching. I officially decided to be a teacher when I moved to France, and started teaching English there."

 

What drew you to Language Arts specifically?-

"I love to read, and it's truly a gift to help people learn how to enjoy books.  I love writing as well, and I think writing can help so much when it comes to figuring out feelings, and what you're thinking. Being a lifelong reader and writer  really improves your life.

Have you taught any other subjects?- "

Yes, I taught history for a while, in New York I taught Humanities, I taught math at a high school level, and psychology while in France. English is my favorite subject to teach."

What's your favorite thing about teaching?-

"This year more than ever, I love  just being in a room with students, being able to talk to students about reading, and enjoy their spontaneity."

Where were you prior to teaching at CVMS?-

 " I was in New York City, teaching at a middle school. I lived in New York for 7 years.

How are you enjoying being at CVMS so far?-

"I love it so far!. Everyone was so welcoming when I started back in August. I see why teachers stay here for a long time! And the students are wonderful. There's so much light here, I understand why people were excited to be back.

 What's your favorite book?-  " That's hard, but if pressed, the Harry Potter series is probably my all time favorite. I also love anything by Jane Austen!"
Leave a Comment
About the Contributor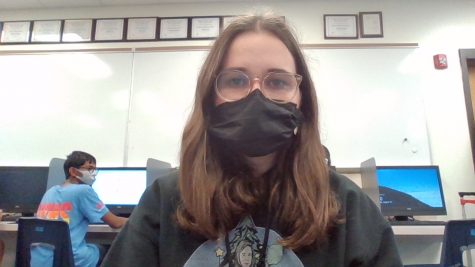 Mayla Montgomery, Reporter
Hi, I'm Mayla! I'm an eighth grader here at CVMS. In my free time I love acting, swimming, watching TV shows and movies, and sleeping. I have one little...