Orchestra Wins at UIL
Though the pandemic put the orchestra program into a hiatus, the students have recovered with excellent practice and rehearsals throughout the 2021-2022 school year. Playing 3 different pieces of immense difficulty, the CVMS orchestra has overcome many obstacles to produce a truly beautiful performance.
The UIL competition, or the University Interscholastic League competition, is a state-wide competition that organizes competitions for everything from music to athletics. Ever since its founding, Canyon Vista Middle School has excelled in these competitions. The musical category of these competitions is rated in 4 different divisions- 1 being the best to 4 being the worst. The Canyon Vista Orchestra has consistently won all 1's for over 30 years now, and this year was no exception.
1. Danzas de Panama 1st movement, Tamborito by William Grant Still
As Mr. Whatley puts it, this concert's songs can be named in 3 different categories. One for the head, one for the Heart, and one for fun. Tamborito is the one for the head. With many different dynamic contrasts that overlap between the different sections, the amount of precise control needed to execute this piece in a graceful manner is extremely demanding. To top it all off, the whole song has sections of swirling polyrhythms with instruments playing different rhythms at the same time. Needless to be said, the concentration that went into this piece exhausted the performers, who in the end managed to pull off this challenging piece with immaculate precision.
2. Prelude for Strings in F minor by Gerald Finzi
As the complexity of Tamborito ends, the 2nd piece in the program brings everyone to a moody and strikingly beautiful lull with Prelude. Though slow, this heart-wrenching song of flowing legatos and immense crescendos required a lot from the performers. The emotion needed in the piece demands an immense maturity that not many professionals can pull off, yet the CVMS orchestra emerged victorious from this arduous performance.
3. Simple Symphony 4th movement, Frolicsome Finale by Benjamin Britten
After the depressing interlude of the Prelude, the concert ends on a stormy yet vivacious Frolicsome Finale. Extremely fast and extremely fun to both play and listen to, this piece moves like a juggernaut. Thundering melodies kept the audience at the edge of their seat until the final giant chord, played fortissimo all forty-odd performers. This breathless explosion of a song won yet another set of all 1's, a triumphant ending to a victorious performance.
Leave a Comment
About the Contributor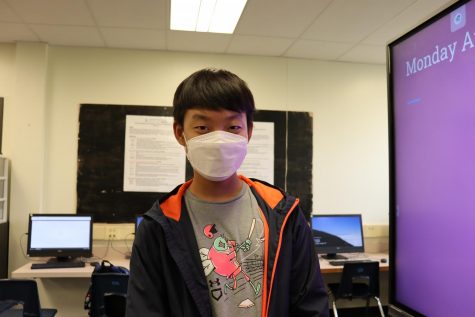 Sunwoo Choi, Reporter
Hello! I am Sunwoo Choi. I am 13 years old and an 8th grader at CVMS. I love watching movies, reading books, and listening to music. I also like biking...