Canyon Vista Turns 30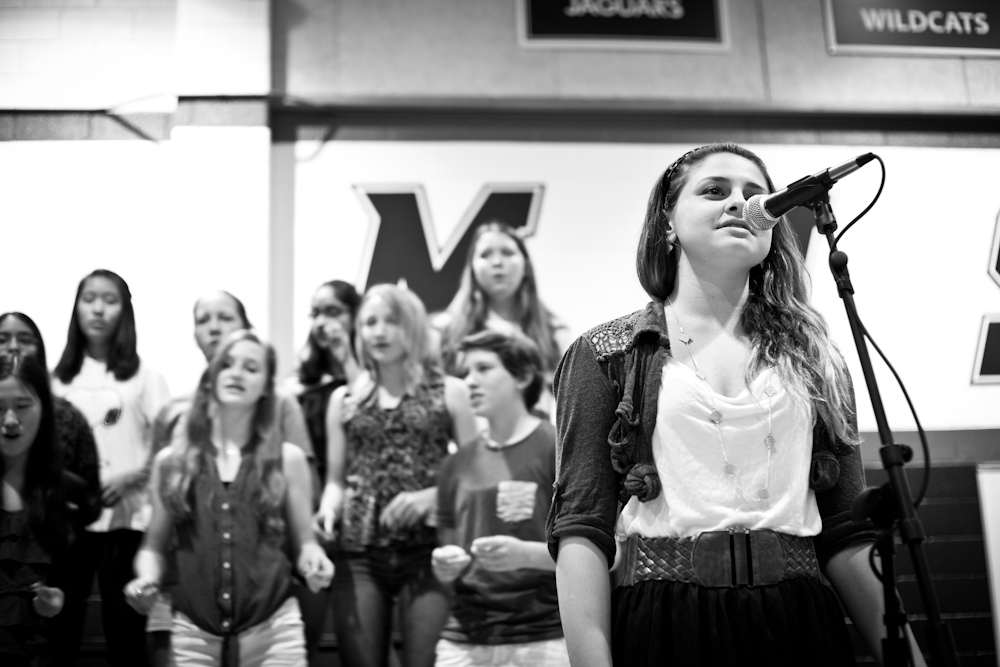 A lot has happened in the last 30 years. Our country has changed with many memorable events. Something big happened 30 years ago, and although the world may not know about it, it is important to each and every one of us here. For it was 30 years ago that our wonderful school opened.
A school wide celebration was held Friday, May 2nd, to commemorate the school's anniversary. The celebration was held in the gym with 8th graders cheering from their coveted spots on the bleachers while 6th and 7th graders smiled from the gym floor. Principal Hagerty began the ceremony with a short speech, and then stepped aside to let the special teachers who had been here thirty years ago take the stage.
First we heard from Coach Govea, who roamed Canyon Vista's halls years ago, not as a teacher, but as a student. She expressed how at first, she felt lost in the long hallways of the school, but eventually found her place, as we all do. She found her calling in athletics, and went on to join both the volleyball and basketball teams. She loved the school so much that she decided to return as a math teacher, and now she is a beloved coach of our girls volleyball and basketball teams. Her years at Canyon Vista have been some of the best years of her life.
Next, Mrs. Casmedes talked about how one thing never changed in all those years: the amazing Canyon Vista faculty. She said that the faculty and students were the foundation of the school- strong and unyielding. They are what keep the school the way it is: an excellent place to learn and teach.
Lastly, Mrs. Olson approached the microphone to a standing ovation. She is the only teacher that has been here all 30 years. Olson got emotional conveying how much she loves the school. Canyon Vista means the world to her. She said it is a place where everyone is welcoming and kind, the kind of place you never want to leave. Canyon Vista is her home.
Personally, what really rings in my ears are the words of Mark Jbeily, a former student who is now studying at the University of Texas in Austin. Jbeily said to cherish the moments we have here, and the memories we make, because it all goes by so fast. As an 8th grader, I couldn't agree more.