Time's Up Movement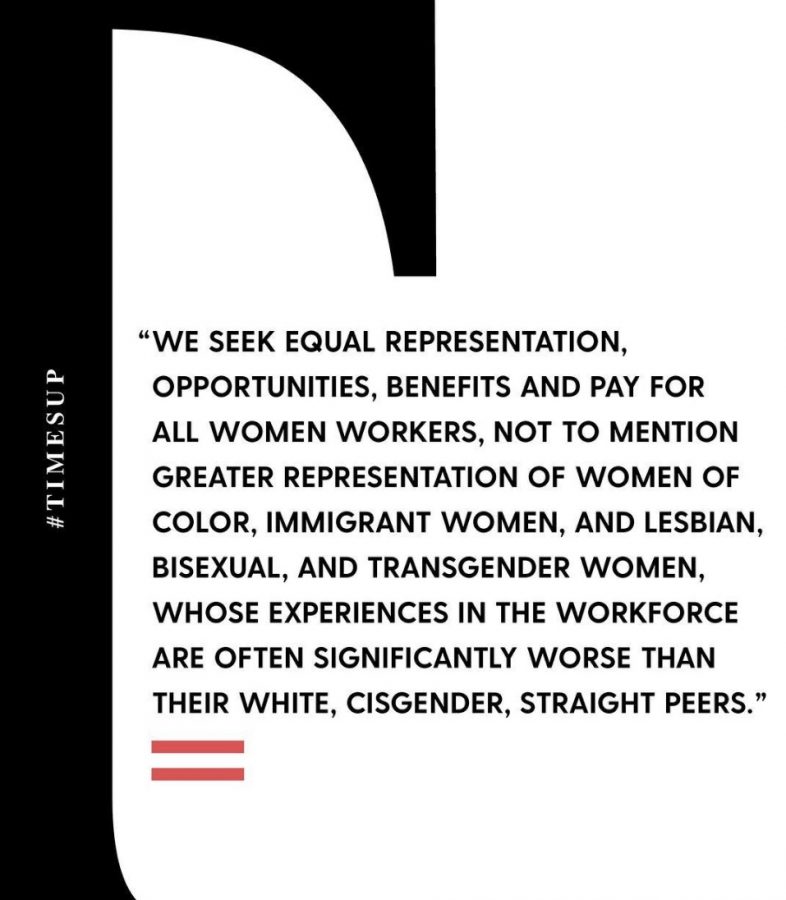 Strength. Empowerment. Solidarity. These are among the many words that can be used to describe the Golden Globes this previous Sunday. Women of all industries, races and backgrounds have come in this past year to show their unity in the #Metoo movement as they come as one in sharing their experiences of sexual harassment and abuse.
Starting after the outing of many women and their sharing of stories, women formed the Time's up movement to advocate against a terribly prominent culture of sexual misconduct and abuse.  This coalition lead by persevering woman has strived since its founding from the beginning of this year to raise awareness for females in every industry including Hollywood.  Following the turbulent events of the past year and the many sexual abuse allegations along with the many women who have come forward to share their terrible experiences, it's no wonder a lot of people had a lot to say at the Golden Globes. Many attendees and award winners gave touching, heartfelt, and moving speeches that urged the listeners both at awards and at home to become aware of heated yet crucial topics such as gender inequality, race discrimination, workplace injustice, unequal opportunities and all around discrimination and profiling.  The members of the Time's up movement also wanted to convey that their mission is not to create the rising of only women but to create true equality between men and women to allow the prospering of one another.
During the Golden Globes' ceremony, Women dressed from head to toe in black, a signal of solidarity against harassment and abuse. Men wore pins engraved with the words time's up to show their unanimity towards the cause. Several attendees brought along prominent activists and a few spoke about the movement before the show. 
The Time's up movement discloses that time is up on silence. Time is up on waiting and tolerating marginalization and misrepresentation. This is not a moment.  The imbalance between men and women in society is uncalled for. Beginning from the start of the night to the end,  the heavy elephant the room was thoroughly addressed and left those in the audience tear-stricken and influenced greatly.  Oprah Winfrey was one women who provided one of the most impactful and heartwarming speeches after receiving the Cecil B. Demille Award for excellence and lifelong achievement.  
"I want all the girls watching here, now, to know that a new day is on the horizon. And when that new day finally dawns, it will be because of a lot of magnificent women, many of whom are right here in this room tonight, and some pretty phenomenal men, fighting hard to make sure that they become the leaders who take us to the time when nobody ever has to say 'Me too' again."
Oprah articulated magnificently to the onlookers as they all gazed, silent and listening intently.  This was a stark  call to action, a way to elevate the movement and to fortify the goals and aspirations that all women deserve and strive for.
From controversy to female empowerment, The 2018 Golden Globes was quite a night to remember.  It left a resonating impact of much needed change and widespread and long-standing equality. Though it may only be the start of these efforts, awareness has begun to spread and actions will be taken for the justice of all.
About the Writer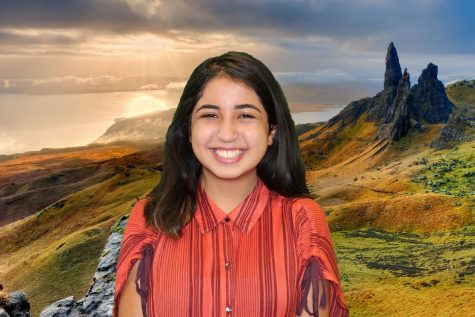 Keana Saberi, Reporter
Keana is a funny and sweet 8th grader. She absolutely adores Hamilton and has memorized every lines. She loves sushi and ramen soup and devours British...